Quick Take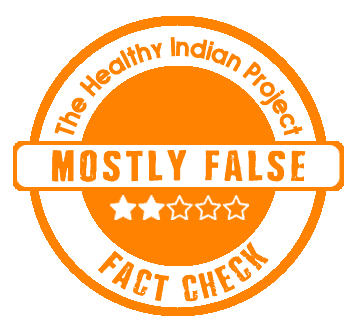 A viral YouTube video claims that a mixture of Mulethi, Lemon, and Honey can fight the novel Coronavirus and help restore Oxygen levels in the body. Similar claims about Mulethi have been made on social media platforms too.
We fact-checked and found that while Mulethi has shown some promising results in clinical trials for Covid-19 treatments, there is no concrete proof of the mixture being able to fight Coronavirus. We term the claim as Mostly False.
The Claim
The video on YouTube shows a recipe made by boiling Mulethi powder and then mixing lemon and honey to it. The video claims that the mixture can help fight low Oxygen levels in the body and can also fight Coronavirus.
The video is embedded below.
A similar claim was published on Facebook about Mulethi. A social media user claimed, "The antiviral properties in Kiwi Mulethi (licorice) is exactly what you need to boost your immunity levels and fight Coronavirus." The post can be seen here.
Fact Check
What is Mulethi?
Mulethi or Yasthimadhu, also known as Licorice or Liquorice (scientific name: Glycyrrhiza glabra ) is a flowering plant. The root extract of the plant has been used in alternative medicines of Egypt, China, and India for years. Licorice is a popular sweetener found in many soft drinks, food products, snacks, and herbal medicines. 
Can Mulethi help fight Coronavirus?
There is not enough evidence.
In one study done regarding this matter, researchers noted, "several evidence regarding the beneficial effects of glycyrrhizin and licorice extract in combating COVID-19." However, they concluded with "more randomized clinical trials are needed to obtain a precise conclusion."
The website of CSIR partnered clinical trials on COVID-19 in India has one clinical trial listed that is testing the use of Mulethi  "as Adjunct Treatment to Standard of Care for the management of Mild to Moderate COVID-19 Patients." The status of the trial is "Ongoing" and results are yet to be published.
So, while few researchers believe there are possibilities of Mulethi being helpful in COVID-19 treatment, the scientific evidence, as of now, is not conclusive.
Is Mulethi healthy otherwise?
Studies have shown licorice moderately improves serum insulin levels in patients with HSD11B1 gene polymorphism. The anti-oxidant, anti-microbial and anti-viral properties of Mulethi (Licorice) have also been proven in multiple research.
However, one study done on the phytochemical compounds of Licorice warns that the overuse of Licorice can lead to health complications.
Disclaimer: Medical Science is an ever evolving field. We strive to keep this page updated. In case you notice any discrepancy in the content, please inform us at [email protected]. You can futher read our Correction Policy here. Never disregard professional medical advice or delay seeking medical treatment because of something you have read on or accessed through this website or it's social media channels. Read our Full Disclaimer Here for further information.