Quick Take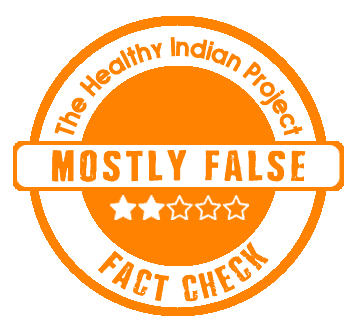 A social media post promotes a herbal syrup claiming it can make you breathe with the full capacity of your lungs, keeping with bad air quality index and smoking. We fact-checked and found the claim is Mostly False.
The Claim
A Facebook post promotes a herbal product named Tar Free sold by a website named VedicVitals.com that claims its consumption can make you 'breathe again with full capacity of lungs keeping bad air quality index and smoking habit back'. A screenshot is given below:
Fact Check
Can an herbal syrup detox your lungs?
It does not seem so. There are many products for sale on the internet that claim to remove toxins from the lungs. But there is no scientific evidence that can confirm the same.
We ran a keyword search on the composition of the product Tar Free, as mentioned on VedicVitals.com and found research papers that show some of these herbal ingredients may have a preventive role. But no paper confirmed the ingredients of the product can repair lungs to the original condition. These papers claimed herbal ingredients have immunomodulatory, anti-microbial, anti-inflammatory and antitussive properties. So, a syrup made of such ingredients can strengthen the immune system, fight infection, reduce severe symptoms and unclog the respiratory tract for easy breathing. A strong immune system can prevent the body from showing severe symptoms.
Even the American Lung Association (ALA) website warns against believing in quick fixes to repair or detoxify lungs because the majority of claims made by companies to sell their products are often based on dangerous and unproven treatments that can cause unwanted harm to the body.
Do we need detox to repair lungs?
It does not seem so. Lungs are self-cleaning organs that will heal themselves. We could not find any scientific evidence that confirms a detox diet can repair the lungs.
Same has been confirmed by Dr Sarthak A Rastogi, Pulmonologist. He informs "Lungs have a considerable healing property and can do very well to recover from acute irritants and toxins if the damage is not substantial. The lung repairs itself with either a regenerative process or a non-regenerative process. The latter leads to scar tissue. Most of the chronic processes in the lungs are usually non-reversible to a large extent. However, if the etiologic agent is removed, further worsening can be stopped. Here a good example can be smoking tobacco, which, if stopped, can control emphysema that cannot be reversed but further decline in the lungs capacity can be stopped."
This means, in case of acute respiratory conditions lungs may recover. But in the case of chronic damage lungs may repair themselves to a certain extent. In a much serious lung disease called chronic obstructive pulmonary disease (COPD), damaged lung tissues are damaged permanently and cannot be repaired through detox.
The word 'detox' refers to a period when you stop taking unhealthy food or substances into your body to improve overall health. Whether organs need detox is a highly contemplated topic and detox through food has been thoughtfully looked upon for a long time.
To this, Dr Sarthak A Rastogi adds, "There is no lung detox diet or diet which helps in healing the lungs. A well-balanced diet, with the required vitamins and minerals, is sufficient. Antioxidant food seems theoretically sound but no evidence is present that prove it clinically beneficial. To achieve healthy lungs, stop smoking today, have a well ventilated house, meditate and do breathing exercises along with yoga, and do cardio and aerobics."
Dr Rastogi also suggests "For older adults or adults with lung diseases, take up varying degrees of cardio or physiotherapy if your physician recommends. In case of asthmatic people, take inhalers regularly, lose weight, eat a well balanced diet with a higher concentration of protein, don't keep pets in the house if you have lung disease, identify your allergies and avoid them, sleep at least for seven hours, visit chest physician if you are breathless".
Dr. P Rammanohar, Research Director, Amrita Centre for Advanced Research in Ayurveda says, "It all depends on which stage of lung damage the person is in. There is no detox or magic syrup available in Ayurveda that can cure or reverse lung damage. Medicines can prevent further damage of lungs. But in all condition, the person needs to quit smoking. If it is early stage of damage and the person quits smoking, then there can be some healing of the condition."
Even the ALA website informs that the best way to keep lungs healthy is to avoid smoking cigarettes and air pollution. Also, the website suggests following a healthy routine by incorporating regular exercise and a good diet.
Disclaimer: Medical Science is an ever evolving field. We strive to keep this page updated. In case you notice any discrepancy in the content, please inform us at [email protected]. You can futher read our Correction Policy here. Never disregard professional medical advice or delay seeking medical treatment because of something you have read on or accessed through this website or it's social media channels. Read our Full Disclaimer Here for further information.