Does gin-soaked raisin work as an arthritic treatment?
There is no evidence to support the use of raisins in the treatment of arthritic pain. Living a healthy lifestyle, getting adequate sleep, and controlling stress could all result in a higher quality of life for those who have been diagnosed with arthritis.
Quick Take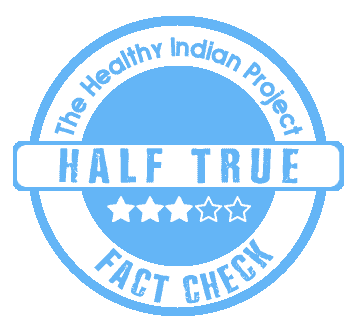 Several social media posts assert that raisins soaked in rum are effective for treating arthritis pain. We verified the claim's accuracy and found that it is only Half True. The claim has some anecdotal backing, but medical research hasn't completely refuted it.
The Claim
The gin-soaked raisins known as "Drunken Raisins" are promoted as an arthritic pain reliever. The myth has been around for a very long time, but it has only recently surfaced on social media.
Fact Check
Where did the 'raisin soaked in gin' myth originate?
Although the notion that raisins soaked in gin or drunken raisins could relieve arthritic pain has not been proven, its widespread use can be traced to a 1994 piece in which a well-known columnist mentioned the same.
Does gin work as an arthritic treatment?
Maybe. Some of gin's raw components might have calming benefits on arthritis pain, yet there is no concrete evidence to support this assertion. Gin is an alcoholic beverage manufactured from juniper berries. Two important juniper berry constituents, flavonoids and terpenes, have been linked to pain alleviation for people with arthritis. According to studies, flavonoids assist in reducing the body's production of cytokines, an inflammatory agent that increases pain. Subsequent research has shown that terpenes frequently have pain-relieving properties. The benefits of this, however, come from the juniper berries. It should be noted that scientific studies have shown that the therapeutic benefits of the berries are either lost during preparation or transferred to the gin during manufacture.
Are raisins good for arthritis?
No. There isn't any absolute evidence. Though, hypothetically, some grape types might provide momentary pain relief. In essence, raisins are dried grapes. The sugars and nutrients in the grapes are concentrated throughout the drying process, making raisins a nutrient-and caloric-dense food. Proanthocyanidins, which are present in grapes, are thought to help with both infection and inflammation prevention and management. This could perhaps be an explanation for why raisins are employed to treat arthritis. In addition, Sulphur dioxide is used to mechanically dry raisins, or they can be sun-dried (for black raisins) or golden raisins. Because of the way they are processed, mechanically dried raisins contain sulfite. Although it has been shown to widen blood vessels and have anti-inflammatory qualities, Sulphur has drawbacks. It should be underlined that this does not only apply to raisins, though. Additionally, the majority of dried fruits are processed using Sulphur. Thus, it follows that raisins may not be helpful in the treatment of arthritis.
Do dietary improvements aid in the relief of arthritis?
Yes, to a certain extent. Arthritis is a condition where one or more joints swell and ache. Joint pain and stiffness are the hallmark signs of arthritis, and these symptoms often get worse with age. Joint inflammation brought on by the illness can result in disability or even deformity.
Certain studies have suggested that abstaining from eating items like dairy, tomatoes, and eggplant could play a crucial role. Despite the fact that there is no diet that will cure arthritis, several foods have been demonstrated to reduce inflammation, strengthen bones, and improve immune function. These foods can be incorporated into a healthy diet to lessen the symptoms of arthritis.
These mainly include naturally delicious fruits and vegetables that also contain significant amounts of antioxidants, fiber, and vitamins. Mango, strawberries, grapes, dark green leafy vegetables, onions, garlic, leeks, and shallots are a few of these. Nuts, seeds, spices, and some oils, including olive oils, have also been linked to an anti-inflammatory effect. Additionally, drinking enough water helps the body remove toxins, which can reduce inflammation. So, according to research, nutrition may be able to reduce arthritic pain. They do not serve as the sole means of treating arthritis; rather, they are adjunctive.
We asked health and nutrition life coach Voomika Mukherjee, about the role dietary changes play in arthritis pain relief. She responded, "There is no specific diet for arthritis pain relief." However, some foodstuffs may be incorporated into the diet. It should be mentioned that they act to reduce inflammation while also relieving joint pain and other associated symptoms. Some foods that reduce inflammation include fish rich in omega-3 fatty acids, nuts, seeds, foods high in vitamin C and K, legumes like black beans because they contain quercetin, garlic with allicin, ginger with gingerol, paradol, and shogoal, cinnamon with p-cymene and cinnamaldehyde, and even turmeric with curcumin. Therefore, living a healthy lifestyle, getting adequate sleep, and controlling stress could all result in a higher quality of life for those who have been diagnosed with arthritis.
Disclaimer: Medical Science is an ever evolving field. We strive to keep this page updated. In case you notice any discrepancy in the content, please inform us at [email protected]. You can futher read our Correction Policy here. Never disregard professional medical advice or delay seeking medical treatment because of something you have read on or accessed through this website or it's social media channels. Read our Full Disclaimer Here for further information.