Can drinking colas increase the testicle size?
No. Drinking soft drinks does not increase testosterone count or testicle size. Testosterone production and testicle size depend on various factors, such as genetics, hormones, and the environment. Mice studies that state this cannot be directly applied to humans due to different biology, genetics, and environment. Human studies show a suppressive effect on testicular function with drinking such drinks.
Quick Take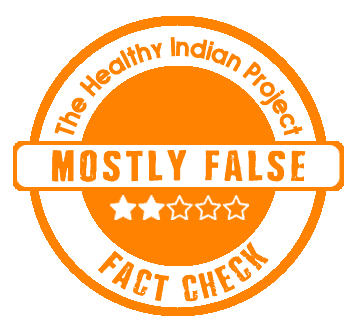 A social media post claims that a study has shown that drinking coke and pepsi can result in larger testicles and an increased testosterone count. We fact-checked and found this claim to be Mostly False.
The Claim
An Instagram post reads, "A CHINESE STUDY SHOWED THAT DRINKING COKE AND PEPSI RESULTED IN LARGER T*STICLES AND INCREASED TESTOSTERONE."
Fact Check
Does drinking soft drinks increase the testosterone count and testicle size?
No. There is no scientific evidence to suggest that drinking soft drinks, such as Pepsi and coke, can increase testosterone count or testicle size. Furthermore, testosterone production is dependent on various factors, such as age, body weight, nutritional status, stress, sleep deprivation, alcohol consumption, and lifestyle habits like diet and exercise.
Additionally, testicle size is determined by a combination of genetic, hormonal, and environmental factors.
There is a research done on mice which suggests that a high concentration of Coca-Cola and Pepsi-Cola could raise testis longitudinal diameter (TLD) and testes transverse diameters (TDD), enhance testosterone secretion, and increase serum concentrations. Even though mice studies can provide valuable insights into biological mechanisms and potential treatments; these cannot be directly applied to humans as they have different biological systems, genetics, and physiology.
Moreover, these studies are done in highly controlled laboratory environments, making it difficult to translate findings to real-world human environments. The environmental factors that affect human health, such as diet, lifestyle, and exposure to toxins, may not be accurately modelled in mouse studies.
Our research led us to another study done on young men which concluded that intake of sugar-sweetened beverages (SSB) was associated with a lower sperm concentration, and total sperm count, consistent with a suppressive effect of SSB intake on testicular function among otherwise healthy men.
Dr. Yogesh Tandon, a Sexologist based in Delhi, comments on this by stating, "While there is limited evidence from animal studies suggesting that consuming cold drinks may have benefits, I would advise against it personally. Excessive consumption can have adverse effects on your body, which outweigh any potential benefits. Instead, consider switching to pomegranate juice, which may help boost your testosterone levels."
Therefore, this claim will stand mostly false until there is a significant research done on humans proving this.
Disclaimer: Medical Science is an ever evolving field. We strive to keep this page updated. In case you notice any discrepancy in the content, please inform us at [email protected]. You can futher read our Correction Policy here. Never disregard professional medical advice or delay seeking medical treatment because of something you have read on or accessed through this website or it's social media channels. Read our Full Disclaimer Here for further information.