Can an eye supplement improve vision?
Not really. Herbal supplements like Triphala, Saptamrit Lauh, and Yashtimadhu may have potential eye health benefits but lack robust scientific evidence. Relying solely on unproven remedies, delaying proper diagnosis and treatment can be harmful. Seeking professional medical advice for vision problems is essential. Herbal remedies may interact with medications, cause side effects, and lack individualized approaches.
Quick Take
Multiple users and businesses use social media platforms to sell 'herbal' products with the claim that they can cure a patients' vision miraculously so much so that they will no longer need spectacles. We fact-checked and found this claim to be Mostly False.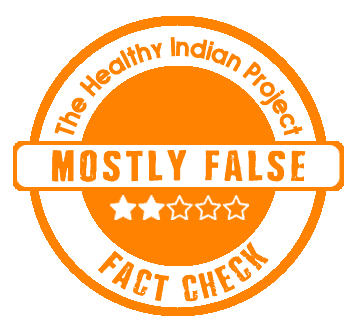 The Claim
Here is a Facebook post promoting a product that claims that various people are cured of their vision problems after consuming the product. They further claim that they had a clearer vision and that the requirement to use spectacles was eliminated. The post has gathered a massive amount of views, i.e., 5.8 Million and is liked by 41k people till we last checked. 
There are multiple similar posts across social media platforms. Another similar post on Facebook promotes a product named I-Lite that can 'improve eyesight' and cure multiple eye related disease.
Most of these products claim themselves to be 'herbal' and bank on the efficacy of various herbs to cure eye problems. While 'Amar Netram' has an e-commerce website, I-Lite requires people to order via WhatsApp.
Fact Check
Why do eye diseases occur? Can one medicine cure all eye diseases?
No. Eye Diseases can be caused due to problems in the eye. Cataracts, Glaucoma and Macular Degeneration are some of the major eye conditions. Additionally, eye problems can also be a result of other chronic health problems like Diabetes. External factors like dusts and pollens causing allergic reaction can cause Eye infections. While all of these are not always dangerous, but some require immediate medical attention. It is unlikely that one medicine will cure all conditions. There is no mention in either of the posts on which particular eye conditions the products cater to, thereby giving a false impression that anyone with any eye condition will benefit from using the products.
Eye specialist Dr. Pradeep Dahale, MS, DNB, explains, "Eyeglasses are given by Ophthalmologists or Optometrists to correct vision. These glasses are given to correct vision problems due to anatomical variations of eyeball dimensions. Exercises, Eye Drops or diet supplements can't alter eye dimensions like axial length, corneal curvature, etc. So it is naive to believe that you can correct your vision naturally."
Dr Neha Rastogi Panda, Senior Infectious Diseases Specialist, Fortis Hospital Gurgaon, elaborates by stating, "Eye problems can be caused by various reasons, such as, allergies, dust, and unsanitary practices, such as, rubbing your eyes with unsanitised and unclean hands. Such problems require urgent treatment to prevent infections. Relying on unproven methods can be harmful. Seeking professional medical advice and evidence-based treatments are crucial for effective management and preserving eye health."
Additionally, Nutritionist Priyanka also illustrates the importance of diet in maintaining eye health and states that diet also plays an essential role in maintaining vision or delaying age-related eye damage like macular degeneration. Many times loss of vision is a side effect of uncontrolled blood sugar or high blood pressure which can be again prevented with a healthy diet and positive lifestyle changes. But there are various eye conditions like conjunctivitis, cataracts etc. cannot be treated with diet alone.
The Facebook posts also mix up "eye health" with "improving vision". While certain products can give relaxation to eyes, but there are many health conditions like Isoametropic amblyopia where spectacles become an absolute must.
Dr Naveen Gupta, DNB (Ophthalmology) informs, "Differentiating between the terms 'good for eye health' and 'can improve vision' is important as they often cause confusion. While a healthy diet and lifestyle can help maintain good eye health, they do not necessarily have the ability to improve one's vision to the extent of reducing eyeglass prescriptions. Making such claims should be avoided. Instead, it is crucial to focus on maintaining good eye health through a balanced diet and healthy lifestyle choices, which can help prevent and manage eye conditions."
Are herbal products extra effective in curing all vision problems?
No. Many such products associate the claim of efficacy to herbal ingredients like Triphala, Saptamrit Lauh, Yashtimadhu etc.
Supplements, including one containing Triphala, Saptamrit Lauh, Yashtimadhu etc. can be beneficial to eye health but cannot be guaranteed to cure all vision problems. 
Vision problems, such as myopia (nearsightedness), hyperopia (farsightedness), astigmatism, and other eye conditions, are complex and can be caused by various factors. The effectiveness of herbal supplements in treating vision problems may vary among individuals and depends on the specific underlying cause of the vision issue.
While some herbal supplements, including triphala, saptamrit lauh, and yashtimadhu, are believed to have potential benefits for eye health, they have not been scientifically proven to cure all types of vision problems.
Triphala has been a proven drug in maintaining health as well as treating many ailments. It has antioxidant properties due to which it has been speculated to aid in cataract treatment. Another study mentions that substantial improvement in the visual sense was observed after Saptamrita Lauha and yoga therapy in myopia. 
We could also find research that suggested that Yashtimadhu can aid in the treatment of Dry eye syndrome due to which it resulted in better vision. However, all of the above-mentioned need to be further verified by conducting a large-scale placebo-controlled clinical trial.
What does Ayurveda say about curing eye problems?
Ayurvedic expert, Dr. Annusuiya Gohil explains by stating, "Triphala, Saptamrit Lauh, and Yashtimadhu are well-regarded in Ayurveda for their potential benefits in addressing eye-vision problems. They have been used in practice and have shown promising results in many cases. However, it's essential to recognize that their effectiveness in achieving a complete cure or eliminating the need for spectacles may vary depending on individual factors.
Ayurveda considers the concept of "nidan" or the root cause of a problem. The extent to which the patient's condition has progressed and the underlying causative factors play a crucial role in determining the treatment outcomes.
However, Ayurveda emphasizes a holistic approach to health and well-being. It recognizes that simply relying on medicine may not be sufficient *as the problem cured may re-erupt*. Other aspects, such as dietary habits, lifestyle choices, eye care practices, and overall health, play an equal role in effective treatment."
Dr. K. Sivabalaji, Associate Professor, Dept of Shalakya Tantra, Amrita school of Ayurveda says, "It is difficult to treat a patient or give a medicine for eye disease under Ayurveda without proper diagnosis. Ayurveda eye treatment procedures remain the same for all conditions, but the choice of medicines will be different for each condition. For examples, spectacles are prescribed for multiple reasons. The treatment methodology will depend on the actual cause of the disease. So, a single medicine for all eye conditions is not feasible. Also, there are limitations that one needs to understand. Ayurvedic eye treatments are often not prescribed for inflammatory conditions. Hence, it is best not to self-medicate without consulting a Vaidya. This can be more harmful."
Why relying on such remedies can do more harm than good?
Relying solely on herbal remedies or alternative treatments for vision problems can be potentially harmful due to the lack of robust scientific evidence supporting their effectiveness and safety. Vision issues may have various underlying causes, some of which may require immediate medical attention. Delaying proper diagnosis and treatment by relying on unproven remedies can lead to worsening conditions and irreversible damage. Additionally, herbal supplements may interact with prescribed medications, cause side effects, and lack individualised approaches to address specific needs.
WHO warns regarding the use of herbal supplements by stating that the safety of herbal medicines is therefore an important public health issue. When herbal medicines are used in conjunction with other medicines, they can lead to consequences when used in combination without monitoring. 
Ophthalmologist Aftab Alam also states, "As an expert, it's crucial to emphasize that no product can miraculously remove the need for spectacles. While certain ingredients may support eye health, claims of spectacle elimination are false. The public must be discerning and understand that brand popularity doesn't guarantee truthfulness."
In conclusion, while we still do not have proofs of the efficacies of the individual products, it is unlikely that they can treat/cure all health conditions that their social media posts tend to imply. Also, removing spectacles referred by ophthalmologists to treat conditions like Myopia etc. is apparently not possible through supplements. Depending solely on herbal remedies might lead to missed opportunities for effective treatments, such as corrective lenses or surgical interventions, which have been extensively studied and proven to be beneficial. Seeking professional medical advice is crucial for the appropriate management and care of vision problems.
We searched the website of these companies for instructions of use elaborating on when or when not the product should be consumed. We could not find any. Most of these websites do not display any license, certification or point to any clinical research supporting its claims. We also could not locate any clinical trial related to the product on Clinical Trial Registry of India (CTRI) and a message sent to these companies through their website form or social media in this regard still remains unanswered. We will update this section, once an update is received.
If you are experiencing vision problems, seeking professional medical advice from an eye care specialist or an ophthalmologist is crucial. They can properly diagnose the condition, determine the cause of the vision issue, and recommend appropriate treatment options, including eyeglasses, contact lenses, medications, or other medical interventions.
Disclaimer: Medical Science is an ever evolving field. We strive to keep this page updated. In case you notice any discrepancy in the content, please inform us at [email protected]. You can futher read our Correction Policy here. Never disregard professional medical advice or delay seeking medical treatment because of something you have read on or accessed through this website or it's social media channels. Read our Full Disclaimer Here for further information.