When 18-year-old Farah (name changed) was tested positive for COVID-19 last year, she got anxious that she may die due to the novel virus.
"Farah was tested positive along with her entire family. Everyone was isolated in separate rooms and she was in quarantine in her room. During this, she had thoughts like she didn't want to die of COVID, and instead, she should opt for suicides. She developed suicidal tendency and started harming herself", said Dr Zoya Mir, Clinical Psychologist at Institute of Mental Health and Neuro-science (IMHANS), Kashmir, who is treating her.
Dr. Zoya said that during COVID-19, her tendency of self-harm increased as she was alone in her room and was not allowed to move out or seek help from a doctor.
"After she recovered from COVID and reported to hospital for her mental health issues, her arms were bruised due to the episodes of self-harms. She had some mental health issues before COVID too, but she had already recovered from that with the support from her family and therapies. However, post COVID, her mental health crisis heightened because of isolation, and she tried to convert it into physical pain which she couldn't endure mentally", said Dr. Zoya adding that she was the only patient with highly increased self-harm behavior.
Similarly, another 28-year-old man, with no history of mental health issues, was travelling to Jaipur from Srinagar and got infected with COVID-19. "When he reached Jaipur, he had fever and tested positive for the COVID. He thought that as he is away from his home, he would die there. These thoughts started consuming him and there was no one who could share his psychological pain which was followed by panic attacks. He used to have 20-25 panic attacks every day", Dr Zoya shared.
After he recovered from COVID, he continued to have panic attacks with the same intensity resulting in chronic mental issues. Later, his panic attacks resulted in cleanliness obsession.
"He used to wash his hands every 10 minutes and used sanitizers for cleaning hands despite cleaning with soap. While at home, he used to change mask 10-15 times in a day. He got obsessed with cleanliness because he thought he might again get contaminated with virus and die. His disease was very chronic. From a healthy man, within a year, his life was revolving around panic attacks and cleanliness obsession", said Dr. Zoya, who has been treating him.
What the data say
To observe the behavioral changes and mental health issues among the people during COVID-19 in Kashmir, the research study titled 'A cross-sectional study on aggression and quality of health during Covid-19 pandemic in Kashmir' was conducted by IMHANS Kashmir.
It was found that the severity of depression, anxiety and stress was high in the study population highlighting the need to provide critical mental health services.
"The majority of participants had severe anxiety (94.2%), moderate depression (42.7%), and 48.5% were experiencing moderate to severe stress. The findings also supported other studies highlighting a high level of anxiety and stress in China during the COVID-19 outbreak and an escalation of 20% in mental illness across the country within a few weeks of lockdown," the study revealed.
The current study is in agreement with another study carried out in 2020 by Verma and Mishra, which had found that 25%, 28% and 11.6% among the general Indian public were moderately to extremely severely depressed, anxious and stressed. A high-level level of anxiety was found among Indians during the COVID-19 pandemics.
Some common symptoms
Speaking to the THIP Media, Dr. Zoya said that different age groups manifested different levels of mental health crises after getting infected with COVID.
"We treated people of different age groups with different levels of mental health issues. Teenagers, after getting infected from the COVID-19, complained of irritability and mood swings. Symptoms of anxiety were seen in adults. Middle-aged people complained of severe depression while old aged people went into dementia after getting infected with COVID-19", Dr. Zoya noted.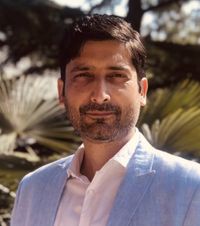 Professor Dr Yasir Rather, Department of Psychiatry, Government Medical College, Srinagar, told The THIP Media that according to various research findings, there was a prevalence of 9% to 10% of anxiety among males and females and 10.8% and 10.9% of depression among males and females who have suffered with COVID-19 infections.
"COVID-19 hasn't just affected our physical health, it has also caused a lot of mental health issues among the people. Disruption of routine, spending time in isolation, hearing or watching news of people dying due to the virus and many other associated changes have affected the mental health of people at large. Anxiety, depressive features, post COVID syndrome, disenfranchised grief are just some of the mental health issues which people complained of. It has led to relapse of many mental health crises like substance use", Dr. Yasir explained.
The COVID-19 has also instilled the feeling of hopelessness among the people, Dr. Yasir said, with every passing day people were just accepting it as their fate and this helplessness pushed them more towards negative thoughts of life.
The severity of the anxiety or depression varies from case to case, some had mild symptoms while others had severe symptoms of anxiety and depression, Dr. Yasir added.
"There were also some cases of early onset dementia in the older population and other psychiatric comorbidities which further complicated the conditions of anxiety or depression in them. The resolution or remission of these conditions also varies from person to person depending upon the severity of the condition of the person, if the person is comorbid, their physical or mental illness and past history of such disorders. Post pandemic we have seen an increase in the number of cases with people seeking treatment of post COVID anxiety symptoms. The treatment model takes into consideration both pharmacotherapy and psychotherapy based on the severity or nature of the condition", Dr. Yasir informed.
Disclaimer: Medical Science is an ever evolving field. We strive to keep this page updated. In case you notice any discrepancy in the content, please inform us at [email protected]. You can futher read our Correction Policy here. Never disregard professional medical advice or delay seeking medical treatment because of something you have read on or accessed through this website or it's social media channels. Read our Full Disclaimer Here for further information.