According to a research published in Nature, researchers at the Tokyo Medical and Dental University (TMDU) examined how a high-fat diet or genetically induced obesity can affect hair thinning and loss. It found that obesity can deplete hair follicle stem cells (HFSCs) by creating specific inflammatory signals. These block hair follicle regeneration and, consequently, can lose hair follicles.
Normally, HFSCs self-renew every hair follicle cycle. It is part of the process that allows our hair to grow back continuously. As humans age, HFSCs fail to replenish themselves, leading to fewer HFSCs and hair thinning. Although overweight people have a higher risk of androgenic alopecia, the TMDU group aimed to address whether obesity accelerates hair thinning and how molecular mechanisms have been largely unknown. We asked the trichologist and dermatologist to explain it in detail and list out Dos and Donts for healthy hair.
Hair and hormones
According to Dr Smriti Naswa, Consultant Clinical, Pediatric and Cosmetic Dermatologist, Fortis Hospital Mulund, Mumbai, obesity is a disease of hormonal imbalance. Hormones like Leptin (needed for appetite control), Insulin (to regulate blood sugars), sex hormones like Estrogen and Androgen, and growth hormone affect our appetite, metabolism, and body fat distribution. Some hormonal diseases like Cushing's Syndrome and those with growth hormone & sex hormone deficiency can cause obesity. "Nowadays, the most common reason for obesity is hormonal imbalance and sedentary lifestyle. Chronic unhealthy eating habits with a sedentary lifestyle switch on Insulin resistance, decrease Leptin sensitivity and decrease growth hormone contributing to obesity. Also, the increasing abdominal fat starts creating sex hormone imbalance in the body," says Naswa.
According to a study, the shrinkage of hair follicles impacts the growth cycle that leads to hair loss. The new hair becomes finer and finer, until there's no hair left at all. The hair follicles become dormant and this type of hair loss is caused by hormones and certain genes.
DHT or Dihydrotestosterone is made from testosterone by an enzyme called 5-alpha reductase; it is five times more potent than testosterone and is primarily used by the body in the prostate, skin, and hair follicles. DHT can also be made from DHEA, a hormone more common in women. Hair loss is called by the actions of DHT and the sensitivity of hair follicles to DHT.
The genetics determine the sensitivity of hair follicles. It is the AR gene that makes the receptor on hair follicles that interact with testosterone and DHT. If these receptors are sensitive, then they are more likely to be triggered by even small amounts of DHT, resulting in hair loss. Other genes may also play a part.
Age, stress, and other factors are also probable causes of hair loss. But genes play a significant role, and men who have close male relatives with MPB have a much higher risk of developing MPB themselves.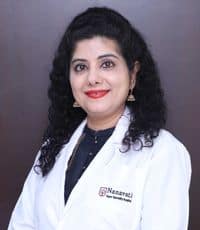 Dr Vandana Punjabi, Consultant dermatologist and trichologist, Nanavati Max Super Speciality Hospital, Mumbai, couldn't agree more. She emphasises how obesity triggers diabetes, insulin resistance, and lipid abnormalities. "Various studies have shown the association of the above conditions with androgenetic alopecia (hair thinning) in males, and females. We commonly see hair fall, which eventually leads to hair thinning (reduced hair volume and scalp is visible). Also, obesity is a common finding in PCOS (polycystic syndrome), where hair thinning is common," adds Punjabi.
Mind that flab
The "normal weight obesity" phenomenon is widespread in India, where a person's weight is normal. Still, they have high abdominal fat (paunch), leading to hormonal imbalances and risk of other lifestyle diseases like diabetes (metabolic syndrome), heart disease, stroke, hormonal cancers, polycystic ovaries, infertility, etc.
Explaining how obesity has a two-pronged effect on hair health, Dr Naswa says, "The hormonal imbalance leads to uncovering of balding (hereditary pattern of balding) in both men and women. Many obese people observe thinning of hair in the central and vertex area (the middle parting area) with balding. This is because the abdominal fat itself liberates sex hormones in the body." On the other hand, people who suffer from obesity due to bad lifestyle habits like eating junk processed and packaged foods, and who lead a sedentary life do not get essential vitamins, minerals, antioxidants, and trace elements in their diet. "The imbalance in their diet impacts hair growth. Skin and hair are mirrors of the internal body and mind. So, if our body is not healthy, hair won't be healthy," adds Naswa.
Oil it right
Hair oiling is a common practice of pouring hair on the hair and massaging it acts as a moisturiser for the hair, making it soft and shiny. It nourishes the hair and replenishes it with lipids that are lost due to chemical treatments, styling, or even pollution and protect it from wear and tear.
For hair growth, most people use coconut oil, olive oil, almond oil, etc. Some findings suggest that oil massaging is helpful for hair and scalp health. "Oils are good conditioners for hair too. Hence I recommend them for deep conditioning of hair," advises Naswa.
Oiling helps in good scalp health. A gentle oil massage helps the scalp in exfoliation and that sometimes helps in reducing hair fall.
Dr Punjabi warns that even though some oils containing herbal medicinal extracts may stimulate hair growth, they should be used cautiously in humid weather and people with oily scalp. "Very often, we have seen increased dandruff due to oil application, worsening the hair fall," she says.
Hair oiling must be done in moderation. The pollution in the air can play havoc if there's too much oil on the scalp and hair. "The oil can clog pores of oil glands and increase dandruff (caused by a fungus called Malessezia Furfur, a Lipophilic or oil-loving fungus). Also, the dust, dirt, pollution particles can easily attract the oiled hair and cause grease on the scalp making it liable for itching, dandruff, or folliculitis," explains Naswa.
Some reports suggest that coconut oil helps scalp nourishment but shouldn't be used more than once or twice a week before shampooing. "Hair (which means around one inch above the scalp) can be conditioned with non-greasy hair oil, and for deep conditioning before hot towel or steam taking, one can use oil on hair lengths. This process is good for dry, frizzy, curly, and wavy hair," suggests Naswa.
Diet-wise
The skin and hair reflect one's diet and lifestyle choices. If the diet is imbalanced, then it would show on the hair. "So usually, the basic vitamins such as Biotin, which can be readily available in a well-balanced diet, are lacking and leading to diffuse hair fall (this may or may not be associated with balding)," states Dr Naswa.
The lesson lies in eating healthy, exercising regularly and maintaining a good lifestyle to avoid hair fall.
Disclaimer: Medical Science is an ever evolving field. We strive to keep this page updated. In case you notice any discrepancy in the content, please inform us at [email protected]. You can futher read our Correction Policy here. Never disregard professional medical advice or delay seeking medical treatment because of something you have read on or accessed through this website or it's social media channels. Read our Full Disclaimer Here for further information.