Quick Take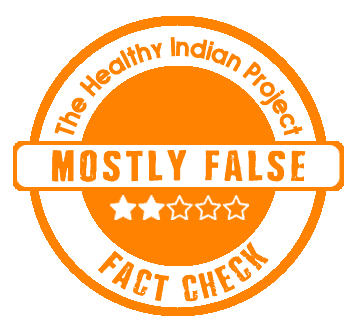 A tweet claiming that diabetes can be reversed in 2 days by using homeopathy medicine has been trending. We verified the claim and found it to be mostly false.
The Claim
A viral video on twitter put up by a person named Pradeep Kumar Gupta claimed that diabetes can be cured in 2 days at Naiminath Homeopathic Hospital, Agra, India. Mr Gupta claims that reversing diabetes is possible using homeopathy and claims he has been doing it for long.
The video on twitter shows a man testifying the claim.
Fact Check
Does Naiminath Hospital exist in Agra? Is it a Certified hospital?
We found out that the said Hospital exists in the city of Agra.
The claimed accreditation of 'India's first NABH accredited Homoeopathic Hospital' also seems true. The name of the hospital appears in the NABH website under the list of accredited ayush hospitals. We provided a snapshot of the NABH website as below:
Who is the claimant, Mr Pradeep Kumar Gupta?
The unverified twitter profile bio claims that Mr Gupta is the Principal Professor and Head of Department for the PG Department of Materia Medica at Naiminath Homeopathic Medical College.
The name of Pradeep Kumar Gupta is listed in the Naiminath Homeopathic Hospital website.
We also called up the hospital to verify that Prof Gupta indeed works there. However he was unavailable for comment
Validity of the Tweet
What does the hospital say about the claim?
We called up Naiminath Homeopathic Hospital to verify the claim in the tweet. Under the condition of anonymity, a hospital person confirms that a patient has indeed seen a reversal of diabetes in 2 days after he was prescribed certain lifestyle changes. He says, "The case mentioned in the tweet is about that particular person. His diabetes was completely cured in 2 days. This doesn't mean it will apply to all the diabetes patients. There were certain diet and lifestyle which we made him follow. It wasn't momentary. He is completely cured of diabetes now. If he follows the same diet and lifestyle, it will never come back."
What do authorities say about the claim?
We searched on twitter reaction about this particular post and found out that the Advertising Standard Council of India (ASCI) has already raised concerns on the tweet.
We also found out at as per the the Drugs and Magic Remedies (Objectionable Advertisements) Act, 1954, no product or treatment can claim to cure diabetes. (Source)
What do various credible homeopathy journals claim about reversing diabetes?
(Source 1)The National Health Portal of Indian Government mentions that homeopathy has a unique approach "…to understand the profile of the patient through a patho- physiological profiling through a detailed case taking and then select a constitutional remedy. This is a unique concept in homeopathy. For this one has to take a detailed history of the patient, his personal, family history, past history, emotions, individual preference, likings, dislikes, sleep, reactions at physical and mental levels and so are taken and arrive at the individualizing features of the patient. The process is called Individualization and a remedy is selected that suits more close to this diseases picture (Similia principle). This differentiates Homeopathy from other medical systems. The modern scientists are gradually accepting this concept and they call it personalized medicine or Theranostics."
(Source 2) The British Homepathic Organization mentions, "...homeopathic treatment can help improve the general health of a person with diabetes. If a person with diabetes is in good health, his or her insulin requirements will be steady and the blood glucose well controlled. If the general health is poor, it can be very difficult to achieve good control".
(Source 3) Dr. Prasanta Banerji Homoeopathic Research Foundation in Kolkata, an accredited Scientific and Industrial Research Organisation (SIRO) by the Department of Scientific and Industrial Research (DSIR), Government of India, claims in their website, "Conventional medicine often uses insulin itself in the treatment of diabetes. This being just a replacement therapy, diabetes becomes a life-long disease. Homoeopathy can be used effectively in the treatment of diabetes. Here we mainly concentrate on functioning of the pancreas in efficient insulin production. Medicines such as Helonias 200, Iodum 200, Syzygium Jambolanum θ (Mother Tincture) are used by us effectively in the treatment of all the stages of the diseases. Often, patients come to us already under insulin replacement. In such cases we advise the continuance of the replacement ahile starting them off on our medicines. After some months, when we see a consistent control over the blood sugar levels, we taper off the conventional replacement therapy. Complications of the disease can also be taken care of by symptomatic treatment."
However, in none of the above credible sources, it has been claimed that diabetes can be cured in 2 days.
What do other Homeopathy doctors say about reversing diabetes?
Dr. Sushil Bahl (DHMS, DI.Hom), a homeopath with over 40 years of experience says, "It is impossible to reverse diabetes in 2 days, no matter whatever medicine or dietary restrictions you put the patient in."
What do dieticians say?
Kajal Gupta, Dietician and Nutritionist on THIP Medical Review Team, says, "Diabetes occurs due to permanent damage of pancreatic cells or it becomes sensitive to insulin , so it can't be cured completely but can be manage through proper medication, diet and life style changes"
Nutrionist, Dr. Avni Kaul says,"Diabetes cannot be cured. It is a progressive disease. However, it can be managed and controlled with diet and lifestyle."
Conclusion
We found that hospital and the person claiming the reversal of diabetes are authentic.
We also found multiple credible sources that talks about controlling diabetes through lifestyle changes, diet changes and various homeopathy medicines.
However, the claim that 'diabetes is cured in 2 days' cannot be corroborated and appears to be misleading. Even the claimant hospital points out that this is 'one of a case' and is not true for all diabetes patients.
Disclaimer: Medical Science is an ever evolving field. We strive to keep this page updated. In case you notice any discrepancy in the content, please inform us at [email protected]. You can futher read our Correction Policy here. Never disregard professional medical advice or delay seeking medical treatment because of something you have read on or accessed through this website or it's social media channels. Read our Full Disclaimer Here for further information.