Quick Take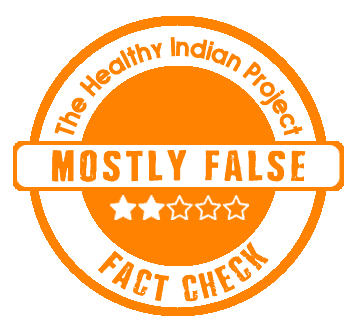 A Facebook post claims that Garlic can cure Cancer. We investigated and found that researches have shown that Garlic may prevent Cancer but there is no evidence that it can cure Cancer. We find the claim as Mostly False.
The Claim
A Facebook Page with the name Cure 4 Cancer has shared a post that claims "Garlic kills brain Cancer cells without Side effect". The claim was accompanied by further explanation saying it is as per the researchers and was published in 'Journals Cancer'
A snapshot of the post is given below and the archived version can be seen here.
Fact Check
Is there a journal named 'Journal Cancer'?
There are multiple journals of names similar to this. Example: International Journal of Cancer, The Cancer Journal etc. However, we couldn't track any particular journal named 'Journal Cancer'.
Is there any research related to Garlic's effect on Cancer?
As per the American Institute of Cancer Research, "Laboratory research shows that allium compounds in garlic offer anti-cancer activity, but support for garlic lowering cancer risk is lacking in human studies." However, the site also suggests that "Eating Garlic for Cancer prevention" is a good idea.
In another research published in 2018, it was found that Garlic extracts can inhibit the growth of Cancer cells.
In a recent report published in Sciencedirect on March 2020, a group of researchers claim to have been able to cure Cancer in a mice after injecting raw garlic extract. However, researchers mentioned in the conclusion that, "More rationally designed experiments and trials are required to explore the novel properties of garlic."
Can Garlic be treated as a medicine? Can it cure Cancer? Should I opt for consuming Garlic instead of Chemotherapy?
No. Garlic may help in preventing Cancer. It may also help in fighting Cancer. However, there is no conclusive medical evidence as of now.
Garlic is considered a herb with strong medicinal properties under Ayurveda and Unani medicinal practices. Alternative medicinal practitioners have often used garlic for treating high Cholesterol and other diseases.
However, garlic is not proven to be a cure for Cancer. It may prevent Cancer (as suggested in researches mentioned above) but there is no evidence that it will be effective in curing Cancer. It should not be treated as an alternative to Chemotherapy.
Dr. Manish Singhal, Senior Medical Oncologist with Indraprastha Apollo Hospital, mentions, "There have been a number of researches related to both Garlic and Turmeric and their effects on Cancer cells. Some results have positive outcomes too. But we need to remember that these are researches done mostly on a Petri dish and not on humans having Cancer. We do not have any evidence on how much of Garlic or Turmeric should be consumed and believing that consuming a large quantity of these herbs will cure Cancer is a very wrong statement." Watch Dr. Singhal's full video statement on the issue below:
Disclaimer: Medical Science is an ever evolving field. We strive to keep this page updated. In case you notice any discrepancy in the content, please inform us at [email protected]. You can futher read our Correction Policy here. Never disregard professional medical advice or delay seeking medical treatment because of something you have read on or accessed through this website or it's social media channels. Read our Full Disclaimer Here for further information.