Quick Take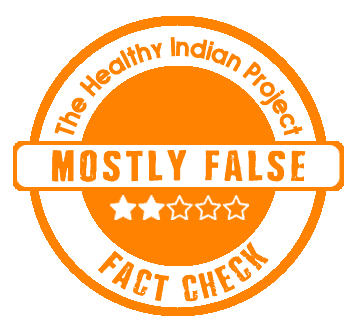 A lot of people believe that Bhut Jolokia (Ghost Pepper), a chilli that grows in North East India, is the hottest and spiciest chilli in the world. We fact-checked and found that Bhut Jolokia was the hottest chilli at one point of now, but no more. We rate this claim as Mostly False.
The Claim
Many social media users believe Bhut Jolokia is (still) the hottest chilli in the world. Such recent posts can be seen here and here.
Fact Check
How are hotness in chillies measured?
The hotness in chilli is measured by a unit called Scoville ratings. The scale is used to measure the amount of capsaicin in a particular chilli. Capsaicin is the chemical compound that gives the chillies their hotness and creates that burning sensation on our tongues.
The Scoville rating is given by human taste testers (people who eat the chilli and rate its hotness) and hence is believed to be very subjective. A modern method called high-performance liquid chromatography can detect capsaicin content even more exactly, but still, the Scoville rating is the most accepted measurement of hotness in chillies chefs, foodies and experts.
Is Bhut Jolokia pepper the hottest?
Bhut Jolokia (also known as Ghost Pepper) is NOT the hottest chilli anymore in the world currently in 2021. Bhut Jolokia, found in the northeastern state of Assam in India, entered the Guinness Book of World Records in 2007 as the hottest chilli in the world. But it was dethroned of its position in 2011 first by the Infinity, then by the Naga Viper Pepper and then by the Trinidad Scorpion Butch T Pepper.
As per the Guinness Book of Records list, Carolina Reaper is the hottest chilli in the world since 2013. Two other chillies that were measured to have a higher Scoville score than Carolina Reaper – the Dragon's Breath in 2017 and the Pepper X in 2019 – are still not verified and entered into the Guinness Book.
How hot is the Bhut Jolokia chillies?
Bhut Jolokia has a Scoville rating of 1,041,427.
To put it in comparison, a regular Green chilli (Thai Chilli) in the market will be around 10,000 in Scoville rating.
Taking Dragon's Breath and Pepper X into account (both are still not in Guinness Book of World Records as of date), Bhut Jolokia is probably the sixth hottest chilli in the world.
Can Bhut Jolokia kill you?
Professor Paul Bosland, Director of the Chile Pepper Institute, who was responsible for finding the Bhut Jolokia mentioned in media interviews that theoretically it is possible to die from eating chillies but our bodies will revolt before we reach that point.
A research done in 1980 shows that it will take a person weighing 150 pounds (approx. 68KG) to eat 3 pounds (1.3KG) of Bhut Jolokia at one sitting to die from capsaicin toxicity. The same amount of chillies eaten over a period of time will not lead to any major health problems.
What are the hottest chillies in the world?
Disclaimer: Medical Science is an ever evolving field. We strive to keep this page updated. In case you notice any discrepancy in the content, please inform us at [email protected]. You can futher read our Correction Policy here. Never disregard professional medical advice or delay seeking medical treatment because of something you have read on or accessed through this website or it's social media channels. Read our Full Disclaimer Here for further information.