Quick Take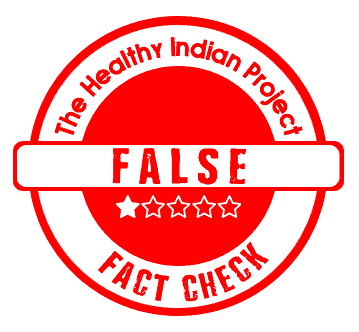 A post on a Korean page claims that you can treat Athlete's foot with bleach. We fact-checked and found this claim to be False.
The Claim
A post shared on a Korean website translates as "If you dip your feet in Rox once a week for three minutes, then wash them clean with soap, will your feet be free of bad odour, athlete's foot and dead skin? The answer is yes. I've tried it. Athlete's foot and smell, in particular, disappeared completely." The screenshot of the post is attached below.
Fact Check
What is Athlete's foot?
An athlete's foot (medically called tinea pedis) is a contagious fungal infection that affects the skin on the feet. This fungal infection is called athlete's foot because it's commonly seen in athletes. It may also grow on other parts of the body. However, the feet are most commonly affected, especially between the toes.
According to the NHS, its symptoms include itchy white patches between your toes, redness, soreness and flaky patches on the foot, which may crack or bleed. It sometimes causes fluid-filled blisters.
How is the Athlete's foot treated?
Generally, the patient is prescribed anti-fungal treatment (topical and/or oral) and is asked to give special attention to maintaining proper hygiene. If not treated properly and promptly, the infection may take several weeks to disappear and may come back after treatment. The Cleveland Clinic suggests, "Over-the-counter (OTC) and prescription antifungal creams, ointments, gels, sprays or powders effectively treat athlete's foot. These products contain clotrimazole, miconazole, tolnaftate or terbinafine. Some prescription antifungal medications are pills, that contain fluconazole, itraconazole or terbinafine. It's vital to finish your complete course of medicine. If you stop too soon, your athlete's foot may come back and be harder to treat."
Can bleach be harmful to the skin?
Yes. The active ingredient in bleach is sodium hypochlorite, which is a corrosive chemical agent. Exposure to bleach can irritate or burn the skin, eyes, nose, and mouth. It can lead to a type of chemical burn known as bleach burn, a severe condition that is characterized by painful raised red bumps (welts). The bleach can also cause an allergic reaction, which can cause white spots on the skin.
Our Dermatology expert, Dr. Jyothy Kannangath states, "Bleach is corrosive and can cause severe and permanent damage to the skin, eyes and airways. So caution should be used while using bleach as it can cause burns, blistering and allergic reaction. Do not use bleach on your skin without medical advice."
Can you treat an athlete's foot with bleach?
No. There is no scientific evidence that proves that bleach could be used to treat athlete's foot. Moreover, as discussed above, the application of bleach to the skin could be harmful. Trying to treat the infection with bleach is not just ineffective but also dangerous as it can further exacerbate an athlete's foot and other skin conditions.
Further confirming it, Dr. Kannangath elaborates by stating, "No. You can't treat an athlete's foot with bleach because of two essential reasons:
First of all, bleach or sodium hypochlorite is an irritant that can damage your skin and nails, worsening the fungal infection. Secondly, fungal infections require oral and topical anti-fungal medications in adequate dosages and for the required period of time because of the anti-fungal resistance, which is very prevalent these days.
One way of using bleach (in very diluted form) in the context of fungal infection is for cleaning objects which may harbour fungi like shoes, socks, nail clippers, toilets, floors etc. But, it should not be used on the skin."
Disclaimer: Medical Science is an ever evolving field. We strive to keep this page updated. In case you notice any discrepancy in the content, please inform us at [email protected]. You can futher read our Correction Policy here. Never disregard professional medical advice or delay seeking medical treatment because of something you have read on or accessed through this website or it's social media channels. Read our Full Disclaimer Here for further information.