Quick Take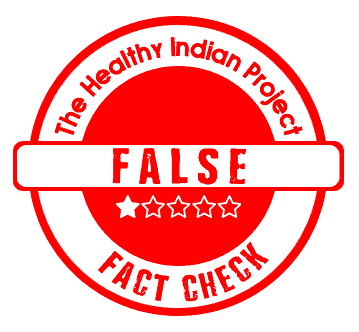 A number of media articles, social media posts, and YouTube videos claim that you will die if you eat grapes after medicines. We fact-checked and found that the claim is False. However, there are some things you should be aware of.
The Claim
A number of articles and social media posts claim that grapes can prove to be fatal if eaten after medicines. Most of these claims do not mention any source of the claim or any particular medicine that reacts with compounds in grapes BUT put this as a blanket warning for all medicines.
Many others, such as this post and this answer, have confused grapefruit with grapes and deduced the same conclusion.
Fact Check
Will eating Grapes after medicine kill you?
No. There is no documented medical evidence that proves that eating Grapes after medicine will kill you.
That said, there may be a few drugs that may react with grapes. As WebMD mentions, "Grape juice might increase how quickly the liver breaks down some medications. Taking grape along with some medications that are changed by the liver can decrease the effectiveness of some medications. Before taking grape talk to your healthcare provider if you take any medications that are changed by the liver."
Some researches, here and here, have shown that grape juice can affect how the body absorbs certain medicines. But none of them establishes a reaction as extreme as death.
Dietitian Anamika Bhargav says, "There are many fruits, vegetables, and other products that cause interactions with the metabolism of certain drugs altering their blood levels and thus their response and side-effects. Grapes are not known to cause any serious drug interaction"
Is there a difference between Grapefruit and Grape? Are Grapefruit safe to consume with medicines?
Grapefruit and Grapes are two completely different fruits.
Ms. Bhargava explains, "Grapefruit and grapes belong to entirely different families of fruits. Grapefruit is a hybrid of pomelo and orange belonging to the orange (citrus) family. It is known as "Chakotra" in Hindi and is called "grapefruit" because it grows in clusters, similar to grapes. Grapefruit (and not Grapes) is known to cause significant drug interactions resulting in increased blood levels and hence causing serious side- effects."
The US FDA website also has a warning regarding the same matter – "Many drugs are broken down (metabolized) with the help of a vital enzyme called CYP3A4 in the small intestine. Grapefruit juice can block the action of intestinal CYP3A4, so instead of being metabolized, more of the drug enters the blood and stays in the body longer. The result: too much drug in your body."
Disclaimer: Medical Science is an ever evolving field. We strive to keep this page updated. In case you notice any discrepancy in the content, please inform us at [email protected]. You can futher read our Correction Policy here. Never disregard professional medical advice or delay seeking medical treatment because of something you have read on or accessed through this website or it's social media channels. Read our Full Disclaimer Here for further information.