Quick Take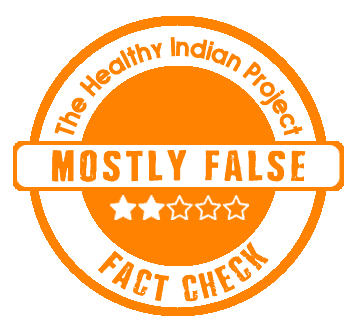 A video on social media claims ginger extract can make thin hair look fuller and thicker in 21 days. We fact-checked and found the claim is misleading, hence Mostly False. No scientific evidence confirms ginger extract can prevent hair loss and reduce bald spots to make hair look fuller and thicker.
The Claim
A video on Facebook shows different women treating their bald spots and using a product that claims to have ginger extract. A screenshot is given below:
Fact Check
Can you stop hair fall or make hair look fuller and thicker using ginger?
Not exactly. We could not find credible scientific evidence that can confirm ginger extract has a curative effect against bald spots, and regular use for 21 days can make hair look fuller.
During our fact check, we found that the video is promoting a website named HairyFormula.com that claims ginger can regrow hair. The website is promoting a hair spray GingerGRO HairReborn Oil which claims to have components that can cure alopecia. The website has not listed the product ingredients and has only mentioned safflower, black sesame and ginger extract as the main ingredients.
We ran a Google reverse image search on the images of people shown as testimonials on the website. We found that most of the images used in the ad are taken from different sources. This raises an authenticity about the product and the video promoting it.
Can ginger extract reduce bald spots and make hair look fuller?
We could not find any scientific evidence that confirms ginger extract triggers hair follicles to promote hair growth.
The video claims that as the product touches the inner part of the scalp, it triggers cells which are responsible for hair regrowth and prevents the recurrence of alopecia in future.
We asked Dr Jyothy Kannangath, Dermatologist, how deep topical products can go when applied onto the scalp. To this, she said 'The follicular penetration is a complex process, whose effectiveness and efficiency strongly depends on a diversity of different factors including follicular density and size, activity status of hair follicles and physicochemical properties of the topically applied substances.' This means applying ginger will not give similar results on every scalp.
A study published in 2013 measured 6-Gingerol, the main active component in ginger, on hair growth in mice to find that this chemical component is a potential hair growth suppressive drug which can be used to remove hair. There is no research online that has studied the impact of this component on human beings. Another study published in 2014 has shown that ginger has anti-inflammatory and antioxidant activities that may improve the scalp environment to support healthy hair growth.
Dr Kanangath says 'No scientific evidence proves ginger helps treat baldness. Most of the evidence seems anecdotal.'
What is alopecia?
Alopecia areata is an autoimmune disorder that causes patchy hair loss. People with the condition often grow back hair on their own with steroids, vasodilators, an anti-inflammatory and immunosuppressive drug, photodynamic therapy and managing stress. Some advanced and severe forms of alopecia include Alopecia totalis, Alopecia universalis and Ophiasis alopecia. None of these variants of alopecia can be treated using only ginger extract.
How does alopecia affect the hair cycle?
Alopecia alters the anagen phase of the hair cycle, declines hair diameter and increases the waiting period between hair fall and onset of regrowth.
The stages of hair growth begin with the anagen phase. It is the longest phase which grows the hair out from follicles. In the next stage catagen, hair follicles shrink, and the hair growth slows. This stage is followed by the telogen phase in which new hairs form in the follicles but haven't fallen out from the head. Lastly, the shedding of hair is marked by the exogen stage where it is common for a person to lose 50 to 100 strands per day.
No evidence shows how ginger extract impacts these cycles to make the hair grow and look fuller as well as thicker.
What can be the dangers of trying to cure hair fall through home remedies and not seek medical advice?
Using home remedies to treat hair fall don't necessarily cause problems for most people. Commonly used home remedies like oils, henna, onion juice or aloe vera are not harmful to the scalp or hair. But some people can be allergic to raw ingredients. Allergic reactions often go on their own. However, it is better to consult a doctor if the symptoms last longer than expected.
Dr Kanangath adds to this by saying 'People with allergies may develop red rash, hives or welts, itchiness, inflammation or swelling in the affected area. Also, self treatments can be dangerous as they may lead to infections if not applied properly. Prolonged application may lead to folliculitis which causes small boils on the scalp.'
Disclaimer: Medical Science is an ever evolving field. We strive to keep this page updated. In case you notice any discrepancy in the content, please inform us at [email protected]. You can futher read our Correction Policy here. Never disregard professional medical advice or delay seeking medical treatment because of something you have read on or accessed through this website or it's social media channels. Read our Full Disclaimer Here for further information.