Quick Take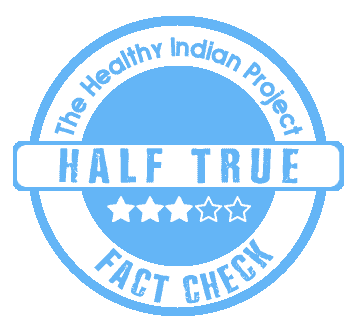 Followed by the findings of two researches a lot of social media users claim that failing to smell peanut butter from the left nostril is a valid diagnosis of Alzheimer's disease. We fact-checked and found that the claim is half true.
The Claim
"One typical test to determine Alzheimer's disease can be stressful and invasive. That's why a new study that looks at the scent and peanut butter could prove revolutionary" – claims one of the many social media users who believe in the home diagnosis method of smelling peanut butter for Alzheimer's Disease. Such posts can be seen here, here, and here. A snapshot is given below.
Fact Check
What is Alzheimer's disease?
Alzheimer's Disease is a progressive brain disease where the brain cells and the connections between them die gradually leading to loss of memory and other mental functions of a person.
A series of medical tests including memory skill tests, behaviour analysis, MRI, and blood tests are done by doctors to diagnose Alzheimer's disease.
Can peanut butter be used to diagnose Alzheimer's disease at home?
Not exactly. Two researches, one done in 2013 and another done in 2015, found that individuals diagnosed with early stages of Alzheimer's disease consistently displayed a reduced ability to smell especially out of their left nostrils. However, both these studies were done on a very small sample size. The 2013 study was done on 94 patients out of which only 18 were diagnosed with Alzheimer's disease. The 2015 study was done on 39 patients.
Both the researches concluded that further studies are required to establish the connection. Further still, when the lead researcher of 2013 study, Jennifer Stamps, was later questioned on her research findings in a media interview said, "Don't try this at home. Having slight differences between your left and right nostrils is normal, and you might end up freaking out over nothing."
Also, a few other researches done on the same subject failed to get the same result as the 2013 and 2015 studies.
Neurologist Dr. Pawan Raj explains, "There was a smell test which was described as a helpful and easy way to identify Alzheimer's disease. However, the test could not be replicated by other researchers and is not used currently in the evaluation of Alzheimer's patients. People should visit physicians specialized in identifying and treating dementia if they have a suspicion of having the disease as it can be mimicked by various other diseases."
Disclaimer: Medical Science is an ever evolving field. We strive to keep this page updated. In case you notice any discrepancy in the content, please inform us at [email protected]. You can futher read our Correction Policy here. Never disregard professional medical advice or delay seeking medical treatment because of something you have read on or accessed through this website or it's social media channels. Read our Full Disclaimer Here for further information.