Quick Take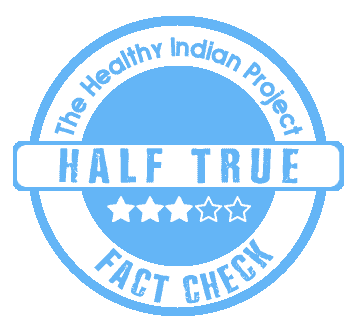 Social media users claim that grapefruit can remove plaque from blood vessels. We fact-checked and found that the claim is half true.
The Claim
"Did you know? Eating 1 Graperfruit (sic)… A day for 9 months can clear all plaque in one's arteries," reads a Facebook post. The post is given here and a screenshot is given below.
Fact Check
What are plaques in arteries?
Plaque in the arteries is a fatty, waxy substance that forms deposits in the artery wall. These deposits can narrow the artery and reduce blood flow. Plaques can also rupture and create a blood clot at the rupture site, as your body's natural processes try to repair the "injury."
Can Grapefruit clear all plaques from arteries?
Yes. Research has shown that grapefruit positively influences serum triglyceride level in patients suffering from coronary atherosclerosis. However, there is no research supporting the claim that grapefruit can clear 'all plaques' from blood vessels.
Can diet clear plaque from arteries completely?
Diet cannot cleanse blood vessels completely of plaque. It may reduce plaque to certain extent or prevent from further building up. It is almost impossible to remove plaque from blood vessels without medical intervention.
Moreover, grapefruit is known to react adversely with multiple medications including prescribed medications for heart diseases. Hence, researchers and medical professionals cautions against eating grapefruits without consulting doctors especially when you are under medication.

Voomika Mukherjee, Nutritionist and Holistic Health & Wellness Coach, says, "Eating any specific food can't reverse the plaque. But by lifestyle modification which includes eating healthy, nutritious and balanced meal along with workout and taking right medical treatment can help a person treat or manage further heart complications. This is related to eating junk or processed foods that create leaky gut which over time, gets worse. Plaque buildup can lead to thickened or hardened arteries."
Is it safe to depend on diet to remove plaque from arteries?

Voomika adds, "It depends on the cholesterol levels. If it's on borderline or if anyone has a family history, then that person can work on his/her health by changing their lifestyle towards healthy, which I define as "Holistic Wellness". But if it's worsened then one should contact a doctor, a dietician and a yoga/fitness expert as all together can work as a team and help one get out of the further complication."

Disclaimer: Medical Science is an ever evolving field. We strive to keep this page updated. In case you notice any discrepancy in the content, please inform us at [email protected]. You can futher read our Correction Policy here. Never disregard professional medical advice or delay seeking medical treatment because of something you have read on or accessed through this website or it's social media channels. Read our Full Disclaimer Here for further information.