Quick Take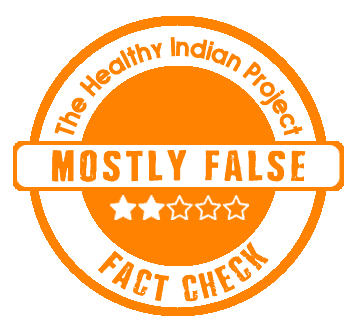 A number of social media users claim that grape juice can prevent and cure stomach flu. We fact-checked and found the claim is mostly false.
The Claim
"It's that time of year… I make my family drink grape juice daily from now until March, Just a few sips each day. It keeps the stomach bug from attaching to your digestive system if you're exposed to the virus," claims one such post. Such posts can be seen here, and here. A screenshot is given below.
Fact Check
What is stomach flu?
Stomach flu is a common term used to refer to a virus born gastrointestinal disease that causes watery diarrhea, abdominal cramps, nausea or vomiting, and sometimes fever.
It is majorly a food or water borne disease. In most common cases, the virus causing stomach flu is Norovirus. However, the disease can also be triggered by bacteria such as E. coli and salmonella.
The patient is advised to keep himself rehydrated and rest. The disease can be self-healing with home care, but in extreme cases doctors may administer IV fluid or prescribe antibiotics.
Stomach flu caused by Norovirus is not related to the flu, which is caused by influenza virus.
Can stomach flu be prevented or cured by grape juice?
Not enough evidence.
Grape Juice has shown to have some antiviral properties in test tube studies, but there are no human trials to provide conclusive evidence.
A study done in 1979 showed that grape juice was "likely to prevent or modify human enterovirus infections." But this old study could not be replicated in all studies and was not carried forward to test the effectiveness of grape juice on norovirus or other viruses and bacteria causing stomach flu.
Some people believe that grape juice can change the pH of the stomach and kill the Norovirus. However, this is also not true. The normal pH of our stomach is a highly acidic. While it is not feasible for a glass of grapes juice to change the stomach pH from acidic to neutral, but even if it happens that may not be a good thing. Research has shown that stomach viruses grow faster in more neutral pH.
So, while there are some early promises in test tube research, efficacy of grapes juice to preventing or curing stomach flu is still not yet proven.
Disclaimer: Medical Science is an ever evolving field. We strive to keep this page updated. In case you notice any discrepancy in the content, please inform us at [email protected]. You can futher read our Correction Policy here. Never disregard professional medical advice or delay seeking medical treatment because of something you have read on or accessed through this website or it's social media channels. Read our Full Disclaimer Here for further information.