Quick Take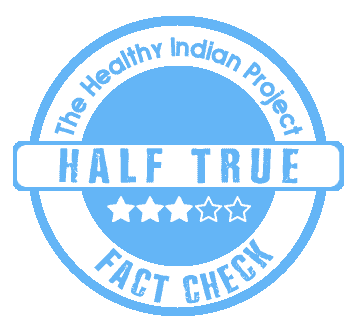 A social media post a few health blogs claim that eating peanut butter can help to improve the Oxygen level in our body. Some other posts claim that peanut butter distributes oxygen to bones and make them strong. We fact-checked and found that the claim is half true.
The Claim
"Peanut butter contains iron and Calcium and helps to improve oxygen in blood" claims a number of the social media posts. Some other posts claim that peanut butter helps to transfer extra oxygen to bones and make them strong. The post can be seen here .
Fact Check
Does diet have an effect on blood oxygen?
Yes. But diet is not the only factor that controls blood oxygen level.
Iron rich diet can improve haemoglobin, the a red protein the facilitates for transporting oxygen in the blood. While the haemoglobin holds the Oxygen, it is the red blood cells (RBC) that carries the haemoglobin transporting it to the different tissues in the body. Hence, count of RBC is another defining factor in blood Oxygen level.
But the most important factor that decides the Oxygen level in our body is the health of our lungs (and overall respiratory system). The respiratory system controls the amount of Oxygen we can take in to our body and transfer to the internal cells.
Experts usually suggest a combination of good diet, regular exercise, and lifestyle improvements like reducing smoking habits to improve blood oxygen level.
Dr. Ambrish Srivastava, MBBS, MD says, "Oxygen saturation is mainly a function of lungs. In anaemic patients, an iron rich diet can help improve the haemoglobin and thereby flow of Oxygen in blood to some extent. But if your lungs suffer, no amount of iron rich diet will be able to replace the function of the lungs."
Dr. S Krishna Prasanthi, MBBS, MD (PGIMER) agrees, "Diet has an effect on improving haemoglobin levels to a certain extent which plays a part in Oxygen distribution of the body. But it will be a wrong statement to make if we say diet can improve blood oxygen levels."
Can peanut butter improve blood oxygen level?
No. It cannot.
The claim is based on the fact that peanut butter is a rich source of iron that will improve blood Oxygen levels. However, the claim is not true. Peanut butter can help in proper distribution of Oxygen to certain extent but cannot increase the amount of Oxygen in body.
Dr. Srivastava says, "There are some nutrition value in Peanut butter to suggest it as a good dietary supplement in moderate amount. But it has no relation with blood Oxygen levels."
Dr. Prasanthi says, "there is nothing special in peanut butter that can improve blood Oxygen level.
Can peanut butter help in strengthening bone strength?
Not exactly. It can play a role in some cases but yet, not recommended by experts.
The claim is based on the fact that peanut butter has calcium that improves bone strength. This is true to some extent. As per USDA, per 100 gm of peanut butter has 43 mg of Calcium. However, this is far lower than Calcium present in peanuts (92 mg per 100 gm).
The further claim that peanut butter has iron which helps transfer oxygen to blood to improve bone health. This claim is also partially true.
Dr. Srivastava says, "Oxygen is required by bones and all parts of the body. If Oxygen is present is blood it gets absorbed by body organs. That's a normal process. There is no extra requirement of oxygen to strengthen bones. Also, peanut butter is no super food that can contribute to bone health. There are a number of other calcium rich foods."
Dr. Prasanthi says, "It is an established fact that oxygen is critical for both bone repair and development. But there is nothing exceptionally special about peanut butter to facilitate the process. The iron content of peanut butter is merely 1.9 mg per 100 gm. There are a number of other cost effective yet iron rich food available. For example, jaggery has 10 to 11 mg iron per 100 gm. I don't think it makes sense to relate peanut butter to source of iron."
Is peanut butter healthy?
Peanut butter is full of fibre, mineral and nutrients which makes it a fairly nutritious food. However, it is also high on calories which can also be detrimental to body weight and heart health, if consumed in larger amounts. In moderate amounts, peanut butter is not known to pose any health risks.
Disclaimer: Medical Science is an ever evolving field. We strive to keep this page updated. In case you notice any discrepancy in the content, please inform us at [email protected]. You can futher read our Correction Policy here. Never disregard professional medical advice or delay seeking medical treatment because of something you have read on or accessed through this website or it's social media channels. Read our Full Disclaimer Here for further information.