Quick Take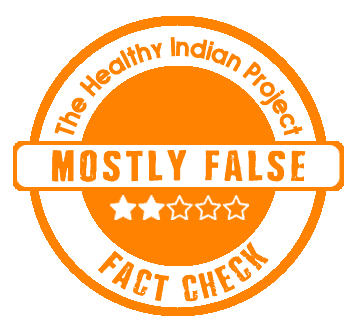 A number of social media users are claiming that drinking coffee with a few drops of lemon can reduce belly fat. The claim is viral on multiple social media platforms including Tiktok, Instagram and Facebook. We fact-checked and found this claim to be Mostly False.
The Claim
"Drinking coffee with lemon can reduce belly fats in 30 days," multiple formats of the claim is available across social media platforms in video, text and image format. A sample video post can be seen here. The YouTube post of the same claim can be seen below.
Fact Check
Can coffee reduce belly fat?
Maybe. There is no direct evidence of coffee being able to reduce fat but anecdotal evidence suggest that it may have some positive effect on people trying to reduce weight.
According to a source, roasted coffee beans contain over 1,000 bioactive compounds, but caffeine and chlorogenic acid (CGA) stand out as key active compounds with antioxidant capacity.
Caffeine is responsible for the drink's energy-boosting effect, positive influence on endurance exercise performance, and ability to increase the number of calories you burn to induce weight loss.
Some research suggest that caffeine may stimulate Brown Adipose Tissue (BAT), a type of metabolically active fatty tissue that decreases with age and can metabolise carbohydrates and fats.
Can Lemon reduce belly fat?
Maybe. There are some evidence of lemon can be helpful in controlling obesity in certain condition.
A 2008 study done by Japanese researchers show that lemon can be helpful in obesity caused by unhealthy diet. The study was done on mice model and researchers concluded that "a supplementation with lemon polyphenols may prevent or improve obesity and insulin resistance by modulating lipid metabolism and preventing metabolic syndrome as a representative, lifestyle-related cluster of diseases caused by an excessively high fat diet."
Lemon is a great source of vitamin C and flavonoids which are powerful antioxidants. Both vitamin C and citrus flavonoids lowers the risk of specific cancers — namely esophagus, stomach, pancreas, and breast cancer. Some studies have linked lack of Vitamin C with obesity.
So, lemons might have some effect in controlling obesity but research evidence are not yet conclusive. However, there is no evidence at all for lemons being able to burn away belly fat in a shorter duration of time.
Can drinking coffee with lemon reduce belly fat?
No. There is no evidence about mixing lemon juice with coffee being super effective for fat burning. There is absolutely no evidence about the mixture being able to reduce belly fat in 30 days.
Though coffee and lemon offer benefits that protect the body from chronic ailments, still, mixing the two does not necessarily translate to a more potent fat-burner drink.
Dr Umesh Wadhavani, Nutritionist, says, "Coffee and lemon mixture cannot help in reducing belly fat in 30 days. In fact, no diet in isolation can help you reduce your belly fat in 30 days that has occurred because of months and months of lifestyle habits and it can only go with the help of consistent lifestyle changes such as eating a balanced diet, proper intake of water, taking good sleep, doing regular exercise and living a stress-free life."
Can obesity be reduced only through diet?
It is now well established that lifestyle habits cause several human cancers. As a consequence, diet in particular has received increasing attention as many people wish to identify food that either increases or decreases the risk of cancer.
Dr Wadhavani, suggests, "No single food item can cause or prevent a chronic health condition. It is the amalgamation of various factors including your diet, daily routine, workplace stress, relationships, sleep, movement, etc, that affect health".
Dr. P. Rammanohar, Research Director, Amrita Centre for Advanced Research in Ayurveda (ĀCĀRA) has a similar view. He says, "Ayurveda states that obesity is a condition difficult to cure. In fact, the text states bluntly that it is almost an incurable disease – na hi sthulasya bheshajam. There is no magical remedy for obesity. No single medicine internal or external can treat the problem. Stress management, lifestyle, and diet constitute the main approach to treatment. Medicines, either external or internal are only supportive. The more patients comply with the comprehensive protocol, the better the results. Obesity also requires an individualized treatment protocol."
Disclaimer: Medical Science is an ever evolving field. We strive to keep this page updated. In case you notice any discrepancy in the content, please inform us at [email protected]. You can futher read our Correction Policy here. Never disregard professional medical advice or delay seeking medical treatment because of something you have read on or accessed through this website or it's social media channels. Read our Full Disclaimer Here for further information.