Quick Take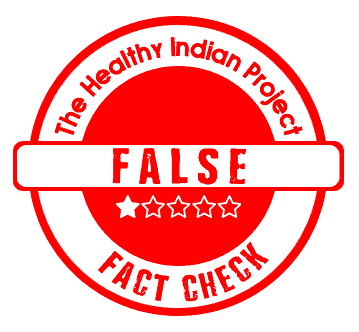 A number of social media users have claimed that the Coviid-19 vaccines insert a microchip in your body and authorities can track your movements using the 5G technology. We fact-checked and found that the claim is false.
The Claim
"Russian hackers have found a database showing information on people who have been vaccinated against the coronavirus have chips, exact GPS coordinates, sleep status, and more. People will now become transmitters and send all their information back to the AI ​​receiver," claims one of the posts. Such posts can be seen here, and here.
A screenshot is also given below.
Fact Check
Do the Covid vaccines contain microchips and can humans be tracked?
No. This has been a fake claim that has been pushed by anti-vaxxers multiple times since the start of the invention of the Covid vaccine.
The claim has been debunked by fact-checkers and medical institutions around the world. The Centers for Disease Control and Prevention (CDC) has also added this in their FAQ section debunking the claim of any microchip being added to vaccines.
The ingredients of most of the vaccines – Moderna, Pfizer, Johnson & Johnson, AstraZeneca, and Sputnik V – are well tested and documented and no evidence of any microchip embedding has been published anywhere.
There is absolutely no evidence of vaccines allowing anyone to control a human being.
Further still, has explained it nicely in a document published on their website titled "Test your Vaccine Knowledge". They say, "microchips are too big" to be added into a vaccine and administer through a needle. The world's smallest microchip is 1 mm x 1 mm large, whereas the inner diameter of the needle typically used in vaccinations is about .41 mm
Have the Russian hackers found a database of vaccinated people?
No. There is no such news.
Usually, such claims by hackers come with evidence of hacking and are widely covered by the media. However, in this case, there had been no media reports in Russia or any other parts of the world about any such incident. Also, most hackers will identify themselves with a code name if they want to take responsibility for the hacking. None of the posts mentioned any such identity of hackers and only referred to them as "Russian Hackers."
Without any evidence, this is just a conspiracy theory and completely false.
Disclaimer: Medical Science is an ever evolving field. We strive to keep this page updated. In case you notice any discrepancy in the content, please inform us at [email protected]. You can futher read our Correction Policy here. Never disregard professional medical advice or delay seeking medical treatment because of something you have read on or accessed through this website or it's social media channels. Read our Full Disclaimer Here for further information.