Quick Take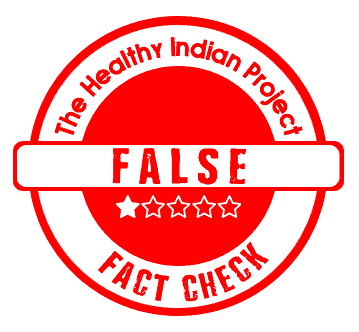 A YouTube video claims that cold drinks and salt can act as contraceptive and prevent pregnancy. We fact-checked and found that the claim is false.
The Claim
"Hello ladies! Here is a hack for you. Sprite and salt method of birth control. Works for many and some it doesn't work. It's natural and won't harm you in any way. Sprite and Salt works immediately after till 48 hours," writes the user who posted the video with the title "WOW! How to Prevent Pregnancy At Home." An archived version of the post can be seen here and the video is embedded below.
Fact Check
Can salt prevent pregnancy?
No. There is no way salt water can prevent pregnancy. There is no scientific evidence to support the claim. We had done a detailed fact check, earlier on this.
A qualitative study done at Nigerian University in 2016 shows that this is one of the most unproven, unscientific misconceptions of emergency contraceptive methods among students.
In a study done on 56 women in the age group of 20 and 36, saltwater showed no ability to prevent pregnancy.
Dr. Sangita Mahajan Chauhan, MD (OBGYN) says, "There is no scientific logic to the claim that salt water can prevent pregnancy. No matter how much saltwater you drink after sex, it will not enter the reproductive system to cause any effect. And in case, salt (sodium) is not proven to have any contraceptive effects."
Can cold drinks prevent pregnancy?
No. Cold Drinks cannot prevent pregnancy as a contraceptive. There is no special power in cold drinks that can make it act as a contraceptive.
That said, studies have shown that long term drinking of cold drinks can lead to reduce in fertility.
Can salt and cold drinks prevent pregnancy?
No. There is no evidence that salt and cold drinks can help prevent pregnancy.
Certified Dietitian and Health Coach, Voomika Mukherjee, says, "There is no evidence of cold drinks and salt acting as contraceptive. Rather, cold drinks and salt both are harmful for the health in excess. Excess salt can cause water retention and bloating. Cold drinks contain empty calories. They are acidic in nature which disturbs the pH level of the body and destroys the villi of our small intestine which causes leaky gut issues causing the nutritional imbalances and hence obesity with other complications starts into."
Disclaimer: Medical Science is an ever evolving field. We strive to keep this page updated. In case you notice any discrepancy in the content, please inform us at [email protected]. You can futher read our Correction Policy here. Never disregard professional medical advice or delay seeking medical treatment because of something you have read on or accessed through this website or it's social media channels. Read our Full Disclaimer Here for further information.