Quick Take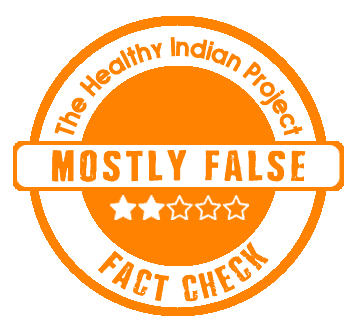 A social media post claims that consuming certain meats lead to acne breakouts. We fact-checked and found this claim to be Mostly False as no conclusive evidence supports the claim. Though experts suggest to stay away from certain processed foods.
The Claim
A post on Facebook shows a comparative image between vegetarians and non-vegetarians, reading, "Certain meats, like beef and chicken, contain an amino acid called leucine. Leucine turns on the chain reaction that stimulates the skin oil's glands and makes the acne breakouts more likely." The screenshot of the post is attached below.
Fact Check
What is Acne?
As defined by the NIH, "Acne is an inflammatory disorder of the skin, which has sebaceous (oil) glands that connect to the hair follicle. Acne happens when hair follicles under the skin become clogged. When the wall of the plugged follicle breaks down, it spills the bacteria, skin cells, and sebum into nearby skin, creating lesions or pimples."
The American Academy of Dermatology Association states, "If you have acne, a dermatologist can diagnose it by looking at your breakouts. A dermatologist will also analyse the type and place of acne to create an effective treatment plan."
What are the causes of Acne breakouts?
There are various causes of acne breakouts, which can differ from person to person.
As stated by Havard Health Publishing, "Acne issaid to develop because of a combination of factors: the production of too much oil in the skin, clogged skin pores, bacteria in the skin, and inflammation." A range of factors triggers acne, but the leading cause is considered to be hormonal imbalance, such as high androgen levels. Few studies suggest that genetic factors may increase the risk. Other vital factors include diseases such as polycystic ovary syndrome, pollution, smoking, and stress. Some medications (especially steroids and lithium), and greasy cosmetics such as hair products, makeup, and other skin products can also contribute to clogged pores, thus leading to acne. 
Are diet and acne related?
Not sure. The relationship between diet and acne has been highly controversial. Though, certain food items are proven to affect acne, more research is needed to confirm the association between acne and certain food items. As published in the Journal of the American Academy of Dermatology, "Compelling evidence exists that high glycemic load diets may exacerbate acne. Dairy ingestion appears to be weakly associated with acne, and the roles of omega-3 fatty acids, antioxidants, zinc, vitamin A, and dietary fibre remain to be elucidated." 
Similarly, research published in the International Society of Dermatology in 2009 stated, "Evidence suggests that components of Western diets, particularly dairy products, may be associated with acne. The hormonal effects of dietary components, such as glycemic index levels or fat or fiber intake, may mediate the effect of diet on acne risk." 
As stated by Havard Health Publishing, "Certain food items can promote inflammation, possibly triggering acne breakouts. Diet can also affect hormones, in turn, affecting acne. Milk and foods with a high sugar content can cause a rise in insulin levels, altering other hormones that can affect the skin. Some research has linked milk and whey protein with acne."
However, almost all research suggests that further research is needed to fully elucidate the role that diet may play in acne.
Are acne breakouts more common in non-vegetarians?
Not necessarily. The role of dietary components in acne breakouts is still being studied, and till now, no conclusive evidence states that non-vegetarians are more prone to acne than vegetarians. As stated above, the occurrence of acne breakouts is multifactorial. Diet may play a role, but other factors definitely play some role, such as hormonal imbalance, etc.  The Havard Health Publishing, concluding the role between diet and acne breakouts, states, "Despite these possible connections between diet and acne, there is no consensus that changing your diet is an effective way to deal with acne."
Dr. Jyothy Kannangath, Dermatologist, further clarifies this by stating, "The connection between acne and diet is complex and not fully understood. You can have the healthiest diet ever, cut out all junk foods and sugar, eat only organic foods and still have acne. The role of diet in causing pimples is not direct and more supporting. For some, dietary modifications help to control acne breakouts, but no studies prove that a non-vegetarian diet will exacerbate acne. Hence, going vegetarian or vegan isn't a necessary step to take to clear your skin. You can get acne under control without significant dietary changes and with proper treatment. But it's a good idea to stay away from processed foods which are proinflammatory if you are struggling with severe acne."
Another research states that "a protein-complex called mammalian target of rapamycin complex 1 (mTORC1) is responsible for healthy cell growth and function. Some researchers believe that mTORC1 turns on the pathway (or chain reaction) for the body to create acne breakouts. mTORC1 is activated by nutrients, especially amino acids like leucine."
But, contradictory to the claim, leucine is not just found in meat like beef and chicken; even other dietary items such as lentils, peanuts, cottage cheese, oats, yogurt, etc. Therefore, the claim is mostly false, until proven otherwise.
Disclaimer: Medical Science is an ever evolving field. We strive to keep this page updated. In case you notice any discrepancy in the content, please inform us at [email protected]. You can futher read our Correction Policy here. Never disregard professional medical advice or delay seeking medical treatment because of something you have read on or accessed through this website or it's social media channels. Read our Full Disclaimer Here for further information.