Quick Take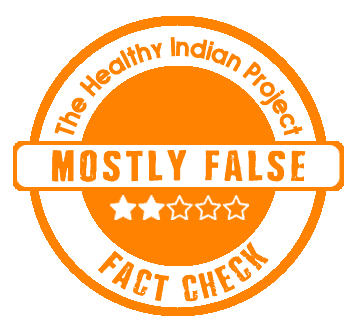 A social media post is claiming that diet and sunscreen cause skin cancer. We fact-checked and found this claim to be Mostly False.
The Claim
The caption of a social media post reads "WEAR YOUR SUNSCREEN OR YOU WILL GET SKIN CANCER. This sentiment has been drilled into our heads since we were little kids." She further adds, "Diet and sunscreen cause skin cancer. There I said it. Throw me to the wolves now. Or maybe, take some advice from my post last week … and stick around to hear something that you may have never thought of. It might open your eyes."
Fact-Check
What causes skin cancer?
The CDC states, 'Most skin cancers are caused by too much exposure to ultraviolet (UV) rays. To lower your risk of getting skin cancer, you can protect your skin from UV rays from the sun and from artificial sources like tanning beds and sunlamps.'
Research shows that Skin cancer is likely to happen in people of older age, in patients with a history of skin cancer, people with certain skin conditions such as solar keratosis, xeroderma pigmentosum, and long-term exposure or short periods of intense sun exposure and burning. The ultraviolet light in sunlight damages the DNA in the skin cells. This damage can happen years before cancer develops.
Can your diet lead to skin cancer?
No. There is no scientific evidence available as of now that proves this. Rather than diet, skin cancer is mainly caused by UV rays from the sun or tanning machines. They help to generate free radicals, unstable oxygen molecules which damage the DNA in skin cells, leading to mutations and skin cancer.
A diet rich in antioxidants can help fight off free radicals, reducing damage. You might note we chose to say diet, rather than supplements. Numerous laboratory studies have found that certain dietary Antioxidants show significant promise in skin cancer prevention. Data from a study indicate that a low-fat diet can significantly reduce the occurrence of a highly prevalent form of skin cancer.
Can the use of sunscreen lead to skin cancer?
No. There is no medical evidence available yet that suggests that sunscreen causes cancer. One research has shown that the risk of Cancer doesn't increase when using Sunscreen. 
Dr. Manish Singhal, Senior Oncologist, Apollo Hospital, says, " No, there is no concrete evidence as of now that can prove that sunscreen can cause cancer. On the contrary, evidence shows that sunscreen reduces the risk of developing both melanoma and nonmelanoma skin cancer."
Research reveals that exposure to ultraviolet radiation is directly harmful and has been associated with the development of skin cancers. Both the American Academy of Dermatology and the Canadian Dermatology Association recommend that people use sunscreens to protect themselves from exposure to UV rays.
Why are sunscreens speculated to cause cancer?
Few chemical sunscreens have active ingredients that can be absorbed through your skin and found in blood, urine, and breast milk after a single use.
Therefore, the Food and Drug Administration published two reports in 2019 and 2020 asking for more data on the effects of six chemical sunscreen ingredients, namely, avobenzone, oxybenzone, octocrylene, homosalate, octisalate, octinoxate, ensulisole as these ingredients were found to be in a higher concentration in the bloodstream in concentrations than recommended.
Even though the FDA asked for more data, the reports did not suggest that using sunscreens with these ingredients was dangerous. But because the studies show absorption into the body, the FDA wants more information on the effects the ingredients may have, if any.
Till more data is available, the benefits of using sunscreen overshadow the fear that it might cause cancer.
Can we get skin cancer if we try to get Vitamin D from sunlight?
Exposure to sunlight can increase your risk of getting skin Cancer. However, Dr Manish Singhal, (Oncologist, Apollo Hospital) says, "The chance of skin cancer due to the UV rays of the sun is common in white population. However, the risk is much lower in the Indian population."
Disclaimer: Medical Science is an ever evolving field. We strive to keep this page updated. In case you notice any discrepancy in the content, please inform us at [email protected]. You can futher read our Correction Policy here. Never disregard professional medical advice or delay seeking medical treatment because of something you have read on or accessed through this website or it's social media channels. Read our Full Disclaimer Here for further information.