People in many parts of India believe in superstitions about solar eclipse. One such superstition is to bury children suffering from paralysis or any kind of physical disability by birth in the ground, keeping only their heads out for hours during an eclipse. In some cases, people do this to adults too. They believe that doing this will cure the disability once the eclipse is over and they are brought out.
Doctors say that no matter what such people believe, doing such things would not bring any positive change in the health condition of a physically challenged person. Instead, it may harm them further.
Undoubtedly, increasing spread of education and awareness has resulted in the weakening of such superstitions. However, we are still far from their eradication.
Instances of superstitious rituals during solar eclipses
A few months ago, some sadhus in Suratgarh in Sri Ganganagar district of Rajasthan partially buried a disabled child in the ground though there was no eclipse. Some local people came to know about it and reached there and rescued the child, who was just about 10-12 years old. The sadhus opposed this rescue claiming that they were trying to cure the child.
During the solar eclipse of December 26, 2019, three disabled kids between the ages of 8 and 11 were buried in the ground for a few hours by some local villagers in Sultanpur village, Kalaburagi district, Karnataka. They too claimed the same saying that it will cure the children. When the news broke, officials of the National Child Protection Task Force came and rescued them. Some children in Arjungi village in Kalaburagi were also subjected to this in the same year. In Vijayapura, a family buried their 24-year-old son with physical challenges believing that he would be able to walk.
In March 2016, media images of a nine-month-old disabled child being buried in Hulsoor village, Karnataka surfaced. The parents buried the child under a smelly compost file for over two hours. The baby kept on crying, but the parents remained unmoved, hoping that their child would be cured. Needless to say, their expectation was not fulfilled. In 2009, the government received reports of 34 such similar cases throughout the country during the solar eclipse. All these kids were treated so harshly and inhumanly just because of a superstition.
Such superstitions are not limited to India
These superstitions about solar eclipse are not just in India. In Pakistan too, people believe in such superstitions in the hope that their children will get better.
Dr Ravikant Gunthe, Senior Psychiatrist and Former Head of the Department of Psychology in Jai Narayan Vyas University, Jodhpur, said, "These are nothing but people's blind and false beliefs. There are several old traditions in society that are unscientific. However, people believe in them. The only way to weed out such superstitions from the society is education and spreading awareness".
Dangers of infection and gangrene due to these superstitions
Dr Subhash Rajotia, Orthopaedic Surgeon from Sri Ganganagar, said, "These beliefs have no scientific basis. Only superstitious people harbour them. Physical disability cannot be cured by burying the patient in the ground. Only after a thorough medical examination, experts can tell you whether a person with any disability can be treated. If a child has a physical problem, then they should be taken to a qualified specialist doctor. Only a medical expert can provide proper treatment".
He further told that burying children like this can lead to infections. And if someone develops gangrene because of the infections, it can even lead to amputation.  
When hoping for miracles becomes a harmful superstition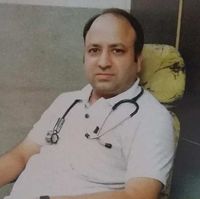 Dr Premprakash Agarwal, Psychiatrist, Sri Ganganagar Rajkiya Jila Chikitsalya, said that there are certain health conditions that are either incurable or take a long time to cure. In such cases, people start hoping for miracles and that can lead them to believe in superstitions.
With time, society changes. Although education and the media have played key roles in creating awareness, a lot of people are still stuck in the trap of superstitions.
Disclaimer: Medical Science is an ever evolving field. We strive to keep this page updated. In case you notice any discrepancy in the content, please inform us at [email protected]. You can futher read our Correction Policy here. Never disregard professional medical advice or delay seeking medical treatment because of something you have read on or accessed through this website or it's social media channels. Read our Full Disclaimer Here for further information.