Recently, two sisters, aged four and two, died in Surajpura village in Dausa district of Rajasthan due to snakebite. These deaths mainly happened because their family took them to a tantrik instead of a hospital after they were bitten by a venomous snake. This resulted in the loss of four crucial hours as the parents waited for miracle to happen.
Dausa is not the only district of the state which has witnessed such tragedies. Snakebite deaths have become a common phenomenon in Rajasthan. In a village of Hanumangarh district, Rajasthan, there was another death due to snakebite of a 12-year-old named Suman. She did not get timely treatment either. The family took the minor to a local snake-charmer and she also died. In Satirampur of Dungarpur district, family members of 14-year-old Arjun took him to a 'Bhopa' (member of a priest-singer community in Rajasthan) after a snakebite. This 'Bhopa' staged a drama in the name of treatment. The boy's condition turned worse, and he died. A 21-year-old student from Ganoda in Banswara district also had a similar fate after a snake bit her. People took her to a temple where they tried to treat her. 
When people believe sorcery is a treatment for snakebite
The cases we discussed here show that a snakebite patient doesn't get timely medical assistance. By the time it reaches to the patient, it gets too late. There also have been instances where people did not lose their faith in sorcerers even after taking the patient to the hospital. In Karauli, a youth was taken to the hospital after a snakebite. The doctors admitted him to the intensive care unit (ICU) and started the medical procedure to save his life. Even then the family brought a tantrik to the ICU to treat him. The doctors firmly protested against such an act in the hospital.
Immediate identification of a snake being venomous or not is not possible in the cases of snakebite. If you visit remote villages in Rajasthan, you will see a lot of temples. Here, people bring snakebite patients with a belief that some divine powers will remove the snake venom.
Blind faith gains ground regarding snakebite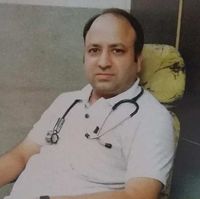 Dr Prem Prakash Agarwal, a senior doctor at Sri Ganganagar government district hospital, said, "If a non-venomous snake bites a person, and then the person recovers after visiting any religious place like temples, people tend to believe that some divine powers treated them. However, the fact is that such a patient's life was never in danger. The common people, who have little knowledge of venomous and non-venomous snakes, start spreading word about what they think is a miracle. This becomes a problem because when a venomous snake bites someone, they, under the influence of these superstitious claims, go to such places and lose their lives because of lack of the right treatment".
According to the doctor, lack of education and enlightenment is responsible for such a situation. "People will fall into trap of these superstitions unless there is enough awareness and education about it. Apart from educating the masses and raising general awareness, it is also important to train doctors at primary government health care centres about treating patients of snakebite and making anti-venom injections available. Generally, snakebite patients do not get proper treatment at public health centres and community health centres because of lack of doctors and injections. Such patients are sent to bigger hospitals like those at district level. But since the bigger hospitals are located far away from villages, the patients' families prefer to take them to the sorcerers instead," Dr Agarwal said. 
Even if a person bitten by a venomous snake survives, he/she has to face various health complications throughout life. According to a report by the World Health Organization (WHO), "Every year, between 81,000 and 138,000 people die from snakebite around the world. And people more than three times of these figures get lifelong medical conditions, such as amputation or disability. People can become paralysed and have difficulty in breathing. There can also be problems such as dangerous bleeding, and kidney and tissue damage. Agricultural workers and children are the most vulnerable to snakebite. Its impact on children could be much more dangerous compared to adults." 
Statistics do not reflect real figures
Deaths caused by snakebite in reality are much more than what the official figures show. A 'comprehensive community-based study' on snakebite deaths in India reported that 45,900 people died from the reptile's bite in 2005. This figure is 30 times greater than what the Indian Government's statistics showed.
The government also did a survey named 'Million Death Study' between 1998 and 2014. According to this study, between 2001 and 2014, more than eight lakh people died from snakebite. There were about 58000 deaths from snakebite every year of which 94 per cent belonged to rural areas. About 77 per cent of the deaths happened in hospitals which suggests that these people did not get proper medical treatment. 
The states in India that witness most deaths from snakebite are Andhra Pradesh, Bihar, Odisha, Madhya Pradesh, Rajasthan, Gujarat, Jharkhand, etc. In Rajasthan, which is ranked sixth among these states, 52,100 people have died from snakebite in 14 years, according to the Study. It means snakebites cause 3,722 deaths in the state every year. 
Raising awareness is the key
Dr Paras Jain, a senior consultant Physician in Hanumangarh, said, "If snakebite patients receive immediate medical attention, we may be able to save them. This can help reduce the death rates. Anti-snake venom is an effective way of treating snakebite. But it is also important to raise public awareness about snakes".
"People in rural areas should be educated to differentiate between venomous and non-venomous snakes as that will help in dealing with cases of snakebite. A person bitten by a snake can become unconscious or develop breathing difficulties. In such case, they should be immediately taken to a hospital", he added. 
Dr Jain also said that in many cases of snakebite, nothing happens to the patient immediately but as time progresses, problems such as breathing trouble start. The patient's life could be at risk if they are not taken to hospital in such a condition. Timely medical intervention is a priority when it comes to saving such patients.
Disclaimer: Medical Science is an ever evolving field. We strive to keep this page updated. In case you notice any discrepancy in the content, please inform us at [email protected]. You can futher read our Correction Policy here. Never disregard professional medical advice or delay seeking medical treatment because of something you have read on or accessed through this website or it's social media channels. Read our Full Disclaimer Here for further information.