Nadiya Mukhtar got her first menstrual period when she was eleven. For three days, she kept bleeding but chose to hide her blood-stained clothes from her mother as she felt ashamed. Soon, she was diagnosed with Polycystic Ovarian Syndrome (PCOS).
After the Ultrasound Sonography (USG) was done, the gynaecologist immediately advised Mukhtar's mother to marry her off at an early age to avoid the chances of infertility — a common misconception about women with PCOS. "That was disturbing. I was just a child," said 22-year-old Mukhtar.
PCOS is a health problem caused by the imbalance of reproductive hormones in women due to several factors, including lack of physical activity, unhealthy eating habits, stress, and sometimes heredity. As per the Indian Council of Medical Research (ICMR) national task force, the prevalence of PCOS among Kashmiri women is above 30 per cent by Rotterdam Criteria, probably the highest percentage globally.
A research study, "Tabooed disease in alienated bodies: A study of women suffering from Polycystic Ovary Syndrome (PCOS)" suggests that the association of PCOS with the female reproductive organs and reproduction process makes it a tabooed disease.
Women diagnosed with PCOS witness symptoms such as irregular or prolonged periods, acne, hair fall, hirsutism or facial hair growth, weight gain, and the social taboo that follows, often resulting in bullying, body shaming, and a sense of estrangement.
Pandora's box
Over the years, Mukhtar's mother advised her to not talk about her PCOS openly, as it would lead to 'troubles' at the time of her marriage. "Being infertile is considered taboo," she said. "You cannot reduce a woman's identity to being just a mother."
With PCOS came other symptoms like excessive weight gain and hirsutism. Mukhtar continued to be bullied for her appearance till she started growing uncomfortable in her body.
"I always felt people's eyes on my face and body," said Mukhtar, adding that even today she is constantly advised to lose weight for managing the symptoms. "But nobody talks about the fact that losing weight in PCOS is not easy."
For her, growing up with PCOS and body issues triggered body dysmorphic disorder, a mental health condition causing the person to believe that their body looks ugly.
"I can no longer eat anything without feeling anxious. I feel guilty and I self-criticize. Because I feel terrible in my body," said Mukhtar. "This is not something I did to myself, society did this to me."
Mukhtar's outing on social media helped her gain confidence and knowledge about her condition. Moreover, she has been able to connect with other women experiencing the same through her Instagram where she openly shares her PCOS journey in an attempt to feel liberated.
"Kashmiri people need to be sensitized about this condition. Social media helped me do that. You cannot tell a woman with PCOS that she is fat and she should stop eating or that she has facial hair and she looks like a man," she said.
Zoya Mir, a clinical psychologist based in Kashmir said that PCOS is considered a dead-end for Kashmiri women and the idea that a woman with PCOS cannot conceive is what has led to taboos. "I have had patients who literally stopped taking their medicines for PCOS because they had to hide their illness from their in-laws," she said.
The lack of acceptance often leads to a lack of self-confidence amongst women, said Mir, and they try hard to fix themselves, a journey difficult for women with PCOS. "Weight loss is very difficult, and they get tired when nothing changes. All of this causes hopelessness and helplessness," she added.
While PCOS can have a direct impact on the mental health condition of women, the societal obligation to bear a child and to look a certain way can lead to damage in the emotional and mental well-being of women. "Creating awareness is important to develop a sense of acceptance for women with PCOS and their symptoms, even if that means not being able to have a child. Talking about it means normalizing it and that is important," said Mir.
Shunning taboos
The Indian Women's Health Report 2021 revealed that around half of the 1,000 women surveyed between the age of 25 to 55 are not comfortable talking about one or more health issues that are prevalent among women due to the societal taboo and stigmas that are often associated with them.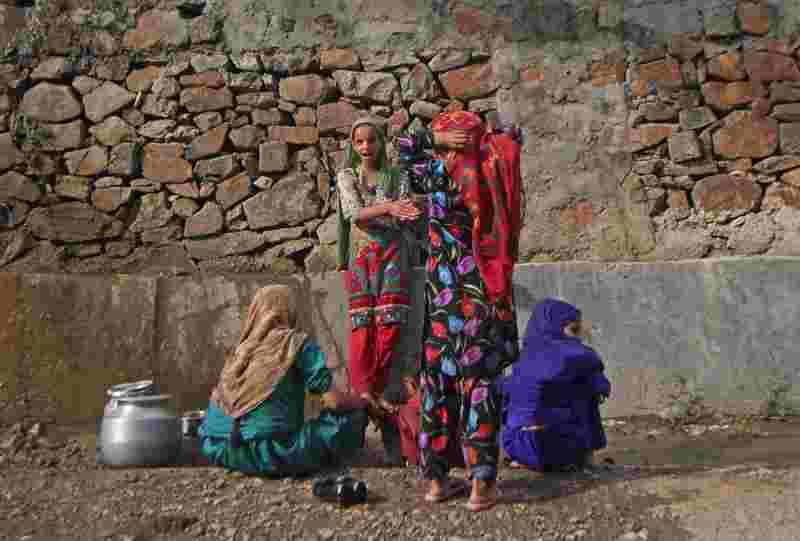 After fighting PCOS for years now, Mehak Zubair, a radio presenter based in Kashmir decided to spread awareness about the socially-tabooed disease. She started a conversation with women suffering from PCOS to shun the taboos attached to it.
Zubair was herself diagnosed with PCOS in 2017 after a continuous irregular menstrual cycle followed by a prolonged menstrual cycle that lasted for about three months. "But my doctor would only talk about fertility, marriage, and children, and all the other symptoms were ignored," she said, adding that months-long periods would cause blood loss and anemia.
Since her diagnosis, Zubair has witnessed symptoms like weight gain, hair fall, hirsutism, fatigue, and mood disorder. "My life was changed. Every plan that I make revolves around when and if I get my periods. From my work to my personal life, everything is affected," she said.
Zubair's conversation with other women made her realize that women are scared of talking about PCOS "as if it is their fault". "So there is a lot of taboo and guilt associated with that," she said.
A holistic approach, however, may be a way for medical experts to help women with PCOS, said Zubair, who believes that doctors should educate women about metabolic dysfunction. "They need to be considerate and stop telling us to just lose weight and get pregnant," she said.
Zubair now receives messages on a daily basis from women, to share their PCOS-related problems and to seek solutions as well. "Speaking less about it means that many people do not know about it so we need to speak about it. Now it is a conscious decision that I have made," said Zubair.
For women to fight PCOS, it is important to understand it and clear the misconceptions and misinformation around it. "We need counseling, we need to know what is happening to us and that is the point of my conversation around PCOS," said Zubair.
Shariq Masoodi, Head of the Endocrinology Department at Sher-i-Kashmir Institute of Medical Sciences, a leading hospital and medical college in Kashmir, said that infertility is just one aspect of PCOS and should not be the primary focus for the treatment.
"Early marriages usually put more stress on women and it can, in turn, worsen their hormonal issues. Moreover, marriage is a social aspect and not a medical solution," he said, adding that the initial focus should be on educating women about the risk of other health problems including diabetes, hypertension, fatty liver, and mental health disorders that are associated with PCOS. "The taboos associated with PCOS are connected to society and often start with family. The disease in itself is not taboo but the associated symptoms are," he said.
For managing the symptoms of PCOS, however, he said that a woman needs a multi-disciplinary and focused approach and to be part of a program that includes an endocrinologist, gynecologist for married females, behavioral psychologist, physiotherapist, and dietician. "We need to set realistic targets for women fighting PCOS," he said.
Disclaimer: Medical Science is an ever evolving field. We strive to keep this page updated. In case you notice any discrepancy in the content, please inform us at [email protected]. You can futher read our Correction Policy here. Never disregard professional medical advice or delay seeking medical treatment because of something you have read on or accessed through this website or it's social media channels. Read our Full Disclaimer Here for further information.