Quick Take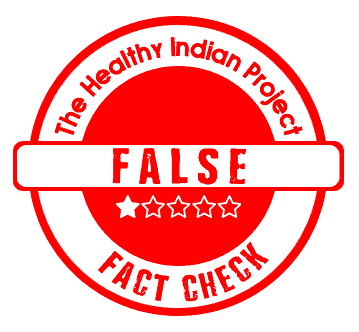 A media website claimed that fully vaccinated people are at a higher risk of contracting covid-19 infection than those who have not been vaccinated at all. We fact-checked and found the claim to be False.
The Claim
A media website named NEWSPUNCH published an article titled 'Conspiracy Theory Confirmed: COVID Jabs 'INCREASE Risk of Infection' – Official Study Confirms' to claim 'Vaccination Increases Risk of COVID-19, But Infection Without Vaccination Gives Immunity'.
Fact Check
Are jabbed people at a higher risk of Covid-19 infection than the unvaccinated counterparts?
It does not seem so. No evidence suggests that fully vaccinated people are at a higher risk of Covid-19 infection than unvaccinated people. In this article, the media website referred to another media website that is pioneering the spread of misinformation around mRNA vaccines. The Healthy Indian Project (THIP Media) has debunked many claims in the past made by this website.
Even the NEWSPUNCH website, previously known as YOURNEWSWIRE, is stated as a 'clickbait fake news website' by RationalWiki and a few other sources.
Coming back to the NEWSPUNCH article, the available published scientific evidence now confirms that natural immunity alone cannot evade covid-19 infection and reinfection. A (2021) study has shown that the natural immunity in unvaccinated people can only last up to 3 to 63 months. Also, every individual has a different immunity level which puts many at the risk of death if not vaccinated. So, it is quite evident that natural immunity alone is not effective against covid infection and reinfection in every individual. 
Even the Centers for Disease Control and Prevention (CDC) website clearly states 'Getting a COVID-19 vaccination is a safer and more dependable way to build immunity to COVID-19 than getting sick with COVID-19'.
Besides this, the research paper referred to in the NEWSPUNCH article itself concludes 'No discernable differences in protection against symptomatic BA.1 and BA.2 infection were seen with previous infection, vaccination, and hybrid immunity. Vaccination enhanced protection among persons who had had a previous infection. Hybrid immunity resulting from previous infection and recent booster vaccination conferred the strongest protection'.
THIP MEDIA TAKE: No evidence confirms that jabbed people are at a higher risk of Covid-19 infection than their unvaccinated counterparts. Hence, the claim remains false until proven otherwise.
Disclaimer: Medical Science is an ever evolving field. We strive to keep this page updated. In case you notice any discrepancy in the content, please inform us at [email protected]. You can futher read our Correction Policy here. Never disregard professional medical advice or delay seeking medical treatment because of something you have read on or accessed through this website or it's social media channels. Read our Full Disclaimer Here for further information.