Quick Take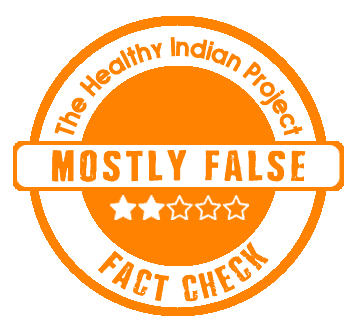 A lot of people claim that cooking in aluminum foil causes Alzheimer's Disease. We fact-checked and found that the claim is Mostly False.
The Claim
"Cooking in Aluminum foil is the cause of Alzheimer's Disease," claim multiple social media posts. One such post can be seen here. A snapshot is given below.
Fact Check
What is Aluminum? What is Aluminum foil?
Aluminum is a silvery-white, lightweight metal. Unlike many other metals (iron, zinc etc.) there is no physiological use of aluminum in human body. It is one of the trace elements in our body and it's presence is described as contamination. Often the metal is used
Aluminum Foil is thin leaves created from the metal. It is often used for packing and cooking.
Does cooking in aluminum foil lace the food with Aluminum?
Research has shown that when food is cooked within Aluminum foil, the leaching of Aluminum into the food is not a negligible amount. When combined with other factors like aluminum intake through certain foods it can lead to "can lead to consuming a weekly dose not far from the weekly tolerable limit." Also, for people with certain medical conditions, like kidney diseases, the build-up of aluminum in the body will be much faster.
Neurologist Dr. Pawan Raj says, "Use of aluminum foil for cooking contributes significantly to the daily intake of aluminum through the cooked foods. The amount of leaching was found to be high in acidic solutions, and even higher with the addition of spices. According to the World Health Organization (WHO), the obtained values are considered to be unacceptable. . Aluminum foil may be used for packing but not for cooking."
Does Aluminum increase the risk of Alzheimer's Disease?
We still do not know what causes Alzheimer's Disease. It is believed to be a mix of multiple factors like age, genetics, environmental factors, and lifestyle.
Research has not been able to establish any direct connection between dietary intake of Aluminum and Alzheimer's Disease. For example, people who get a regular intake of Aluminum due to certain medications do not seem to be developing Alzheimer's Disease.
The Alzheimer's Society website mentions, "At present, there is no strong evidence to support the fears that coming in contact with metals through using equipment or through food or water increases your risk of developing Alzheimer's disease."
That said, there are multiple researches, here, here, and here that show that a very high amount of Aluminum through the diet may have some role to develop Alzheimer's Disease.
Dr. Raj says, "There is indirect evidence associating toxic levels of Aluminum with dementia especially Alzheimer's dementia. Experimental studies in rats and mice showed that Aluminum accumulates in the brain cortex, hippocampus, and cerebellum."
However, such levels of Aluminum toxicity may not occur due to packing or cooking food in Aluminum foil alone. Along with regular use of Aluminum foil, aluminum-rich diets, and existing medical conditions (like kidney disease) can lead to a build-up of toxic amounts of Aluminum.
Disclaimer: Medical Science is an ever evolving field. We strive to keep this page updated. In case you notice any discrepancy in the content, please inform us at [email protected]. You can futher read our Correction Policy here. Never disregard professional medical advice or delay seeking medical treatment because of something you have read on or accessed through this website or it's social media channels. Read our Full Disclaimer Here for further information.