Is regular aspirin consumption helpful for heart patients?
Not always. Aspirin is a blood thinner. It can only help if a heart attack is caused by blood clots. It is recommended to consult your doctor first before taking any kind of medicine for regular consumption. There are several side effects and allergic reactions associated with aspirin and they may vary from person to person.
Quick Take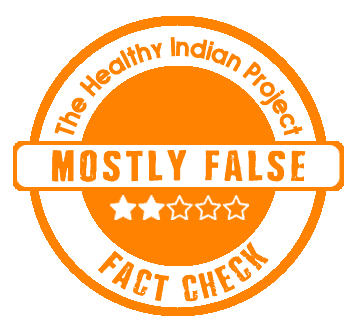 A social media post claims that eating aspirin daily will help people survive a heart attack. We fact-checked and found the claim to be Mostly False.
The Claim 
A Facebook post claims that aspirin can help people survive a heart attack. The post has gathered 7563 likes and 4.5K shares till we last checked. 
Fact Check
Is aspirin recommended for heart attack patients?
A doctor may recommend taking aspirin daily to prevent heart attacks or strokes. Aspirin is a blood thinner, so it can make the blood flow easily. But if you have a serious health problem, allergy, or bleeding disorder, it is better to avoid eating aspirin. 
How can aspirin prevent a heart attack?
As mentioned above, aspirin is a blood thinner. So, aspirin prevents blood clotting. Blood clots prevent blood flow to the heart and cause a heart attack. Aspirin therapy reduces the clotting action of platelets — possibly preventing a heart attack.
Should you eat aspirin daily?
In a certain scenario. Take aspirin daily only if your doctor recommends it. Before starting the aspirin, tell your doctor if you have a health condition that could increase your risk of complications. Eating aspirin daily is often not good for people who have a bleeding/clotting disorder, an allergy to asthma that can cause asthma or a history of gastrointestinal bleeding.
Should you take aspirin during a heart attack or stroke?
It is not recommended. Taking aspirin isn't advised for everyone during a heart attack or stroke, because not all heart attacks or strokes are caused by blood clots. 
Even though most heart attacks or strokes are caused by clots, some are caused by other reasons like ruptured blood vessels. Taking aspirin could potentially make these bleeding strokes more severe. It is better to visit the hospital immediately rather than rely on aspirin for surviving your heart attack or stroke.
What are the possible side effects of aspirin for heart attack patients?
Aspirin won't do anything if the reason for a heart attack is anything but a blood clot. Also, in some cases aspirin can increase the risk of stroke, gastrointestinal bleeding, and serious allergic reaction.
Aspirin can also increase the risk of internal bleeding if mixed with other prescription-based medications. Aspirin consumption should always be carefully discussed with your healthcare provider.
Disclaimer: Medical Science is an ever evolving field. We strive to keep this page updated. In case you notice any discrepancy in the content, please inform us at [email protected]. You can futher read our Correction Policy here. Never disregard professional medical advice or delay seeking medical treatment because of something you have read on or accessed through this website or it's social media channels. Read our Full Disclaimer Here for further information.