Quick Take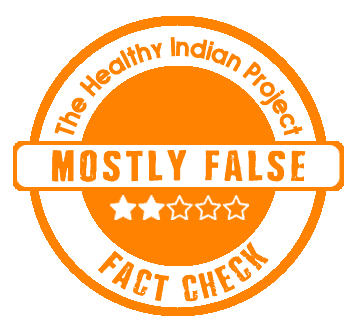 A video uploaded on YouTube by a channel called Champ.fit claims that steam helps in killing Coronavirus and Coronavirus dies at high temperature of 70 degrees. The video also peddles a conspiracy theory saying, medical professionals are aware of this and yet not preaching it well. Our investigation shows that though there is a research paper published recently supporting the idea, most scientific and medical organisations still do not accept the claim. We mark this as Mostly False.
The Claim
The video was first published on YouTube and then shared via Facebook, Instagram and WhatsApp. The video has a lady explaining the importance of Immunity Booster and steaming. The video doesn't reveal the identity of the person, her position or anything about her qualification. An archived version of the YouTube page is here and the archived version of the Facebook page is here. The questionable portion of the video can be viewed below.
Fact Check
What is Champ .Fit?
Champ.Fit is an e-Commerce website that claims to sell 'organic health products' like immunity booster supplements, aloe vera juice etc. The website also sells vaporiser (steamer). While 'Champ.Fit' is the brand name of the website, it's holding company's name is not being openly published anywhere. The website does not mention its ownership details in its About Us page, Terms and Conditions and Privacy Policy.
However, the address mentioned on the website of Champ.Fit is official address of a few similar named companies like Champions Holdings Private Limited, Champions Yatch Club Private Limited.
However, we could not establish the connection of Champ.Fit with any of the above mentioned companies.
Can Coronavirus be killed with steam or will Coronavirus die in high temperature?
Coronavirus does not become ineffective or die at 40 degree or 70 degree centigrade as claimed in the video. The same has been fact checked multiple times, clarified by World Health Organization on its website and confirmed by scientists through multiple clinical research.
The Coronavirus also doesn't die using steam. Though recently a paper published in PubMed pushes the idea of using steam as a first line of defence against Coronavirus, the same has not been echoed by multiple scientific and medical bodies of the world.
As on October 22, 2020, The Indian Scientists' Response team clearly mentions that steam inhalation is not a scientifically proven prevention against COVID-19. The same is also advised by Medical website of Stanford.
THIP Media has earlier Fact Checked a similar claim related to steam killing Coronavirus.
Disclaimer: Medical Science is an ever evolving field. We strive to keep this page updated. In case you notice any discrepancy in the content, please inform us at [email protected]. You can futher read our Correction Policy here. Never disregard professional medical advice or delay seeking medical treatment because of something you have read on or accessed through this website or it's social media channels. Read our Full Disclaimer Here for further information.