Quick Take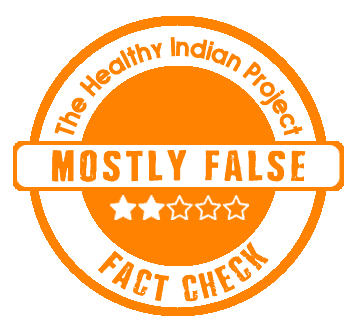 A number of media articles claim that one should not eat dishes made of besan (gram flour/chickpea flour) with tea. Suggested health complications that can arise from this include greying of hair to stomach problems to death. We fact-checked and found that these claims are Mostly False.
The Claim
While many such posts claim that tea itself is an unhealthy drink, others suggest tea and besan dishes result in health problems. Such posts can be seen here.
Fact Check
Is Tea an unhealthy drink?
No. Rather, in moderation, tea is considered to be a very healthy drink.
Modern research suggests that plant compounds in tea may play a role in reducing your risk of chronic conditions, such as cancer, obesity, diabetes, and heart disease.
There can be some side effects of overconsumption (more than 700 ml daily) including anxiety and stress.
Are tea combined with besan (gram flour) made dishes unhealthy?
We found no medical research supporting these varieties of claims about having gram flour prepared dishes with tea.
We asked Dietitian and Nutritionist Kajal Gupta. She says, "I am not sure why it will be an unhealthy combination for a normal person under normal consumption. Gram Flour is healthy. Under normal consumption limits, tea is healthy too. However, many Indians have a habit of overloading their cup of tea with loads of milk and sugar and then have multiple cups a day. That can prove to be unhealthy in the long run leading to issues like heartburn etc. But I don't think Gram Floud has anything to do with it."
Clinical Dietitian Melanie Dsouza says, "I am not aware of any incident where Besan and Tea combination leading to death. That's extreme. In fact, there isn't any scientific evidence of the combination leading to Cancer or Greying of Hair or Hair Fall, etc. But tea has certain compounds called tannins which are polyphenols that contribute to the antioxidant properties. These tannins protect our bodies from oxidative damage but also blocks the absorption of many nutrients like iron, zinc, and to certain extent calcium. This reduces the benefits of the food which are taken with Tea. The best way is to keep a gap of 30mins to between the intake of tea and food to be benefited by both."
So, while tea and food should not be eaten together in general, there isn't any special health disadvantage of mixing tea with besan dishes.
Disclaimer: Medical Science is an ever evolving field. We strive to keep this page updated. In case you notice any discrepancy in the content, please inform us at [email protected]. You can futher read our Correction Policy here. Never disregard professional medical advice or delay seeking medical treatment because of something you have read on or accessed through this website or it's social media channels. Read our Full Disclaimer Here for further information.