Quick Take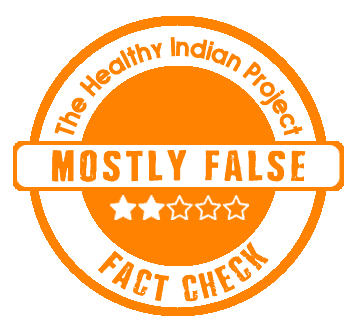 A social media claims that colloidal silver treat almost any type of health issues, including COVID-19. We fact-checked and found this claim to be Mostly False. 
The Claim
A Twitter post reads, "Colloidal silver is a big-time go to almost any type of health issues especially if you are worried about covid-19.
It can aid in wound healing, improve skin disorders, & either prevent or treat diseases like flu, pneumonia, herpes, eye infections, shingles, cancer, and AIDS."
Fact Check
What is colloidal silver?
Colloidal silver is a term used to describe tiny particles of silver suspended in a liquid. It was earlier used as an over-the-counter drug for various ailments, such as several infections, hay fever, skin conditions, etc. But, in September 1999, the FDA ruled that it was unsafe for use. It was believed to be extremely useful for wound dressings as well.
Can colloidal silver treat COVID-19?
Not exactly. Even though a few scientific studies indicate that the colloidal silver might be beneficial in COVID-19, but, the harmful effects of it outweighs its benefits. Currently available colloidal silver products are not regulated by the FDA. Therefore, there is no assurance for its quality, purity, and sterility. 
A research that studied the antiviral effect of silver nanoparticles indicated that, "Silver nanoparticles are highly potent microbicides against COVID-19 virus but should be used with caution due to their cytotoxic effects and their potential to derange environmental ecosystems when improperly disposed."
Another study published in 2021 found that a solution containing colloidal silver inhibited SARS-CoV-2 in a lab setting, but there was no mention if the same could be applicable on humans. The human body is way more complex than the lab settings.
The National Centre for Complementary and Integrative Health states that people are using various alternative medicines such as colloidal silver, teas, essential oils, etc., to treat or prevent COVID-19. But, there is no scientific evidence that any of these alternative remedies can prevent or cure COVID-19. Additionally, some of them are not even safe for consumption.
However, as stated by the India Science, Technology and Innovation, rather than consumption, one can use aqueous based colloidal Silver solution as a disinfectant due to its potent antiviral effects.
THIP Media previously fact-checked that stated that RSV can treat another respiratory ailment, i.e., RSV.
What are the side effects of using colloidal silver?
According to the National Center for Complementary and Integrative Health, "The most common is argyria, a bluish-gray skin discoloration, which is usually permanent." In argyria, the silver deposits may also occur in your intestines, liver, kidneys, and other organs. It further states that it can also cause "poor absorption of some drugs, such as certain antibiotics and thyroxine (used to treat thyroid deficiency)."
Furthermore, in rare cases, its high dose can cause serious side effects, such as neurological impairment, seizures and organ damage. Lastly, if taken in large amounts, it can even cause fatal poisoning.
THIP Media has fact-checked a similar claim that stated that colloidal silver is used to treat various ailments.
Disclaimer: Medical Science is an ever evolving field. We strive to keep this page updated. In case you notice any discrepancy in the content, please inform us at [email protected]. You can futher read our Correction Policy here. Never disregard professional medical advice or delay seeking medical treatment because of something you have read on or accessed through this website or it's social media channels. Read our Full Disclaimer Here for further information.