Quick Take
A social media post claims a missing tooth can be replaced with a self-made artificial tooth without a dentist. We fact-checked and found this claim to be False.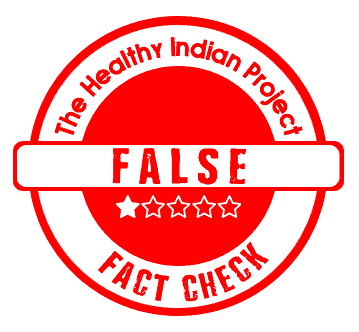 The Claim
A Facebook post with the caption, "Save the high cost of going to the dentist.
Repair damaged teeth easily.
" shares the video, which demonstrates the preparation and application of false teeth using tiny beads submerged in hot water.   
Fact Check
Should a missing tooth be replaced without a dentist?
No. A missing tooth or a set of missing teeth should never be replaced with Do-it-yourself or DIY techniques without a dentist. The DIY crowns or dentures are not safe because they require proper training and expertise to fit and create. Without proper knowledge and training, the DIY approach can lead to ill-fitting or improperly placed dental devices, which can cause discomfort, pain, infection, and even damage to adjacent teeth and gums.
DIY dentures or crowns may cause the food particles to get lodged between the plastic and surrounding teeth or gums. This can cause decay, bad breath, and even tooth loss. In the long term, this could lead to irreversible gum recession and bone loss. Moreover, any object inserted into the mouth poses a potential choking hazard as it can dislodge and get trapped in the windpipe or food pipe anytime.
In addition, a dentist can identify and address underlying dental issues that may contribute to tooth loss, such as decay or gum disease, and prevent further damage or tooth loss.
Dr. Pooja Bhardwaj, B.D.S. further elaborates on this by stating that, "It depends on whether a patient is a child or an adult. When a young child loses their milk (primary) tooth, it is replaced by their own permanent teeth. Adults require assistance from a dentist. Their job is to guide the patient with all possible options, such as implants, fixed bridge, flipper(removable partial denture), and Maryland Bridge, along with treatment cost and long-term durability. Missing teeth may hinder aesthetics, functionality, and difficulty eating and speaking. The adjacent teeth might shift and narrow the space. There are ample options and the latest advancements available. One must always consult a dentist for possible outcomes." 
How does a dentist replace a missing tooth?
A dentist can replace a missing tooth in several ways, depending on the patient's specific needs and circumstances. The dentist will evaluate the patient's oral health, medical history, and preferences before recommending the most suitable option.
Here are some common methods that are used to replace missing teeth:
Disclaimer: Medical Science is an ever evolving field. We strive to keep this page updated. In case you notice any discrepancy in the content, please inform us at [email protected]. You can futher read our Correction Policy here. Never disregard professional medical advice or delay seeking medical treatment because of something you have read on or accessed through this website or it's social media channels. Read our Full Disclaimer Here for further information.