Quick Take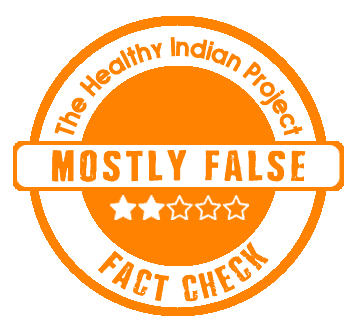 An article on a page named "Beauty Health Page" shares a few recipes to remove plaque, out of which one reads, "Apple cider vinegar is an excellent remedy for removing plaque from your teeth." We fact-checked and found this claim to be Mostly False.
The Claim
A section of an article on a page named "Beauty Health Page" shares a few recipes to remove plaque, out of which one reads, "Apple cider vinegar is an excellent remedy for removing plaque from your teeth. Swish some in your mouth daily, then scrub your teeth lightly with a toothbrush. Rinse with water to remove all the ACV because it can chip away at the enamel on your teeth." The screenshot of the post is attached below.
Fact Check
What is dental plaque?
Plaque is a sticky biofilm that develops on teeth due to the bacteria that naturally live in the mouth. Bacteria in plaque produce acids after you eat or drink. These acids can destroy tooth enamel and cause cavities and gum diseases. Acids that wear away your teeth's enamel lead to tooth decay, and if these acids are not cleaned, they can continue through the dentin to the pulp of the tooth, eventually leading to infection. In other words, if plaque on teeth is left to build up, tooth decay and cavities can occur.
Shall we use Apple Cider Vinegar to remove plaque?
No. It is one of the bleaching agents for making teeth brighter. Even though after using Apple Cider Vinegar (ACV), the tooth may appear clean and remove the biofilm, in reality, it is causing more harm than good. The pH of Apple Cider Vinegar is around 2-3, its nature is highly acidic. In addition to dissolving plaque, it also chelates essential tooth minerals such as Calcium and phosphorus. These minerals are the building blocks of our teeth and bones, which are eroded by using ACV. Ultimately, the frequent application of apple cider vinegar makes our teeth weak and prone to the development of teeth cavities, and in worse cases, makes them prone to tooth fracture.
Our dental expert Dr. Pooja Bhardwaj adds, "Plaque is a slimy, thin, removable layer of food debris and bacteria on the tooth surface, which is formed when we eat or drink something. Apple cider vinegar is a popular home remedy for teeth whitening as it chemically destroys minor stains. However, due to its acidic nature, it may damage gums. It also destroys essential tooth minerals which might weaken teeth and make them more susceptible to dental cavities."
Dr. Aashnaa Pillai, BDS, FILD, further explains, "Apple cider vinegar (ACV) is usually a favourite kitchen remedy that claims to help with sunburns, and acid reflux and is also beneficial for diabetes and high blood pressure. Another use of ACV can be attributed to maintaining oral hygiene. Since vinegar has a natural antibacterial effect ACV might be useful in cleaning the surfaces of your teeth and removing deposits of plaque while using it as a diluted mouthwash. However, it is necessary to remember that the downside of this home remedy causes damage to the enamel of your teeth. It is advisable to get a professional dental scaling done at least twice a year to prevent the formation of plaque and calculus and to maintain excellent oral hygiene."
THIP MEDIA TAKE – We must not use Apple Cider Vinegar to remove plaque from our teeth. Even though such at-home teeth cleaning remedies seem simple and cost-effective, they actually prove harmful to your teeth in the long run. Hence, it is always best to let professionals care for your oral health.
Disclaimer: Medical Science is an ever evolving field. We strive to keep this page updated. In case you notice any discrepancy in the content, please inform us at [email protected]. You can futher read our Correction Policy here. Never disregard professional medical advice or delay seeking medical treatment because of something you have read on or accessed through this website or it's social media channels. Read our Full Disclaimer Here for further information.