Quick Take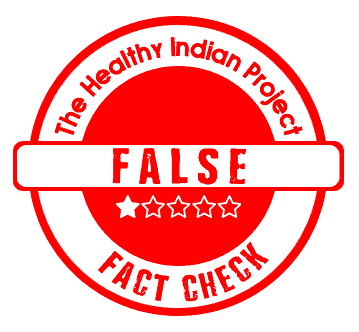 A Facebook post claims that Onion and Salt can cure COVID-19 in 15 minutes. We investigated and found that though both Onions and Salt individually have been proven to have some health benefits, their efficacy against COVID-19 is yet to be proven. There is absolutely no scientific evidence of them curing COVID-19 in 15 minutes. We term this claim as False.
The Claim
A post shared on Facebook by a user named हकिम पुजारा reads: "Consuming raw onion with salt will turn covid positive person to negative in just 15 minutes."
The archived version of the post can be checked here.
Fact Check
Can Onion and Salt cure COVID-19?
No. So far, there is no proof of either salt or onion individually or together to be able to kill the novel Coronavirus.
According to Health Desk, a COVID-19 resource for journalists powered by public health experts, "To date, there are no studies that evaluate onions as a therapy for COVID-19, and there is no scientific evidence to suggest that onions will prevent, treat, or cure COVID-19."
That said, a group of scientists have proposed to test the efficacy of Onion in treating COVID-19. Their hypothesis was published on October 2020 in Allergo Journal International, a Germany based Journal of Allergy, Clinical Immunology and Environmental Medicine. However, no reports have been published further on whether such a test was conducted or what the findings are.
Do Onions have any special health benefits ?
Onions have been subject to many types of research over years to test their health benefits. While some studies have shown that Onions possess antibacterial properties, further scientific studies are required in many cases.
Health Desk mentions, "onions are also known to have some antimicrobial and anti-inflammatory qualities, but studies are limited." Similarly, National Onion Association of USA clarifies on their website that there is no scientific evidence that a cut raw onion absorbs germs or rids toxins, a popular myth associated with Onions.
Do Salt have any special health benefits ?
Salt is a common virucidal (an agent that acts as virus). Some preliminary studies have shown that salt water may help reduce symptoms in COVID-19 patients but conclusive research on whether salt can kill Coronavirus is yet to be published.
Disclaimer: Medical Science is an ever evolving field. We strive to keep this page updated. In case you notice any discrepancy in the content, please inform us at [email protected]. You can futher read our Correction Policy here. Never disregard professional medical advice or delay seeking medical treatment because of something you have read on or accessed through this website or it's social media channels. Read our Full Disclaimer Here for further information.