Quick Take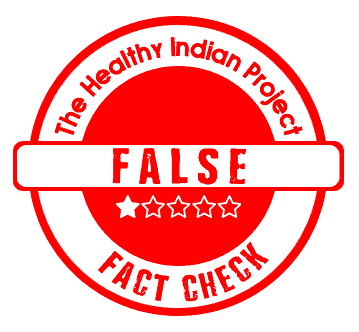 A number of social media users have posted a message allegedly from a doctor in South Africa claiming that the new variant of COVID-19 causing Coronavirus, known as Omicron, is more deadly and can bypass the nasal swab test (PCR Test). We fact-checked and found that the claim is false.
The Claim
A long text message posted on Facebook reads, "
New variant B.1.1.529 is named as #OMICRON….Stay at Home From A Doctors' group RSA…..The virus is back, this time with more energy, tactics and camouflage.We don't cough, No fever, it's joint pain, weakness,Loss of appetite and Covid pneumonia!Of course, the death rate is higher, it takes less time to get to the extreme. Sometimes no symptoms … let's be careful … The strain is not domiciled in our nasopharyngeal region! It directly affects the lungs, which means window periods are shortened.I have seen a number of patients without fever, but an x-ray report shows moderate chest pneumonia!The nasal swab is often negative for COVID19!There are more and more false pharyngeal nasal tests #COVID19) … which means that the virus spreads directly to the lungs causing acute respiratory distress due to viral pneumonia! This explains why it has become acute and more fatal !!!Be careful, avoid crowded places, wear a face mask, wash your hands often.*WAVE* more deadly than the first. So we have to be very careful and *take every precaution.* Please become an alert communicator among friends and family …"
The message can be seen here and a screenshot is given below.
Fact Check
What is Omicron variant of Coronavirus?
Omicron is a variant of COVID-19 causing Coronavirus.
The COVID-19 pandemic is being caused by a variant of Coronavirus (SARS-CoV-2 or 2019-nCoV). This virus has been mutating constantly. Any virus with one or more new mutations can be referred to as a 'variant' of the original virus.
The WHO has named COVID-19 causing Coronavirus variants after Greek alphabets. Alpha, Beta, Gamma and Delta has been used to name 4 variant of concern and Lambda and Mu as variants of Interest. On 26 November 2021, WHO named the variant Omicron (scientifically called B.1.1.529) and designated it as a variant of concern.
The World Health Organization (WHO) maintains a record of all Coronavirus variants related to the Covid-19 pandemic. The list can be followed here. The variants are tracked by their place of origin and are categorised as variants of concern and variants of interest.
Can the Omicron variant bypass the nasal swab test (RT-PCR Test)?
No. So far, there has been no such findings by the researchers. As per the WHO notification issued on 26th November, 2021, "Current SARS-CoV-2 PCR diagnostics continue to detect this variant."
Is the Omicron variant proving to be more deadly?
No. The Omicron variant has just been identified and so far (as on 30th November, 2021), there has been no major death reports caused by the Omicron variant. However, WHO says, "There are a number of studies underway…"
Disclaimer: Medical Science is an ever evolving field. We strive to keep this page updated. In case you notice any discrepancy in the content, please inform us at [email protected]. You can futher read our Correction Policy here. Never disregard professional medical advice or delay seeking medical treatment because of something you have read on or accessed through this website or it's social media channels. Read our Full Disclaimer Here for further information.