Does the atmosphere have insignificant Co2 level?
No, that's not entirely correct. This information is misleading because the scientific consensus confirms that emissions caused by humans are undeniably playing a role in global warming and the acceleration of climate change.
Quick Take
A video on social media post claims that the Co2 level in the atmosphere is negligible. We fact-checked and found the claim to be Mostly False.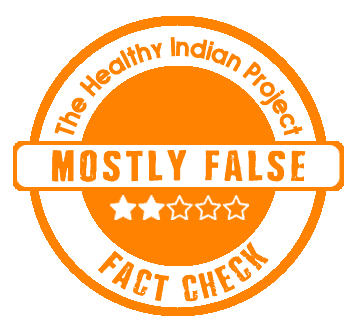 The Claim
An Instagram video from several years ago is being shared again on social media platforms, where an Australian broadcaster suggests that the carbon dioxide (CO2) levels in the Earth's atmosphere are too insignificant to cause significant global warming. 
This same video had previously been shared on Facebook and Twitter.
Fact Check
Is the claim made correct?
Not exactly. This information is misleading since scientific consensus affirms that human-caused emissions are indeed contributing to the planet's heating and driving climate change.
We researched and found that the claimed video was originally aired on the Australian Broadcasting Corporation (ABC) show "Q&A" in May 2019. The video then resurfaced on Instagram on May 26, 2023. In the clip, Alan Jones, the broadcaster, poses a question to a fellow panelist regarding the proportion of CO2 in the atmosphere.
Jones states, "It's 0.04 per cent — and of that 0.04 per cent, human beings around the world contribute three per cent," he continues, "And out of that three per cent, Australia accounts for 1.3 per cent."
He further elaborates, saying, "Therefore, based on Australia's contribution of 1.3 per cent of the three per cent of the 0.04 per cent, we then choose to engage in national economic suicide."
We researched and found that Jones' figures are approximately correct, but his remarks fail to mention the significant impact of emissions like CO2 on climate change.
Regarding the 1.3 per cent figure mentioned by Jones, it appears to correspond to Australia's share of global greenhouse gases. However, we found other evidence that shows the CO2 figure at the time of ABC's broadcast was slightly lower, at 1.12 percent. Also, we found no evidence that supports the claim made in the Instagram video on the Intergovernmental Panel on Climate Change (IPCC) website.
Is the Co2 level in the atmosphere negligible?
No, the CO2 (carbon dioxide) level in the Earth's atmosphere is not negligible. Carbon dioxide is one of the primary greenhouse gases responsible for trapping heat in the atmosphere and contributing to global warming. CO2 makes up a relatively small portion of the overall composition of the atmosphere. According to NASA's website, these greenhouse gases represent a small fraction of our atmosphere. However, they possess a substantial influence in capturing the Earth's radiant heat, preventing its escape into space. This process ultimately leads to planetary warming and contributes to the greenhouse effect on Earth. This evidence also informs that the concentration of greenhouse gases has been increasing significantly since the Industrial Revolution due to human activities such as the burning of fossil fuels, deforestation, and industrial processes.
The available data shows that before the Industrial Revolution, the atmospheric CO2 concentration was around 280 parts per million (ppm). However, due to human activities, primarily the burning of fossil fuels, the CO2 concentration has risen to over 400 ppm as of 2021. This increase has resulted in a thicker 'blanket' of greenhouse gases, leading to a warming effect on the planet.
The elevated levels of CO2 in the atmosphere have serious implications for climate change and its associated impacts, such as rising temperatures, changing weather patterns, sea-level rise, and ecological disruptions. Therefore, it is important to monitor and mitigate the release of CO2 into the atmosphere to address the challenges posed by climate change.
Disclaimer: Medical Science is an ever evolving field. We strive to keep this page updated. In case you notice any discrepancy in the content, please inform us at [email protected]. You can futher read our Correction Policy here. Never disregard professional medical advice or delay seeking medical treatment because of something you have read on or accessed through this website or it's social media channels. Read our Full Disclaimer Here for further information.