Quick Take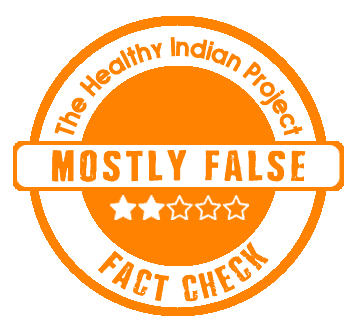 A social media post claims that the radiation is 1000 times stronger when the phone's battery is low under the 'important health tips' category while discussing 'six causes of kidney disease'. We fact-checked and found the claim to be Mostly False.
The Claim
A social media post discussed "6 CAUSES OF KIDNEY DISEASE" and gave "important health tips". In point number seven, the post claimed, "When phone's battery is low to last bar, don't answer the phone, bcos the radiation is 1000 times stronger".
The claim has an attached photo showing a longitudinal section of kidney with incomprehensible labelling and swollen foot.
The post has received 54k shares, 2.7k comments and 11k likes till we last checked.
The screenshot of the post is attached down-below:
Fact Check
Is radiation 1000 times stronger during a low phone battery?
It does not seem so. No evidence confirms if radiation becomes 1000 times stronger during low phone battery. Radiation includes electric, magnetic and electromagnetic fields that have wave-like properties. Radiation is released from both natural and man-made sources.
The electromagnetic fields (EMF) are of two types: low-level non-ionizing radiation and high-level ionising radiation. The available evidence suggests that ionising radiation can damage kidneys to cause Radiation Nephropathy (RN). However, whether non-ionizing radiation damages the kidneys is not clearly known.
A website shows that 'Cell phone send signals to (and receive them from) nearby cell towers (base stations) using' radiation frequency (RF) waves. Also, the National Cancer Institute (NCI) website suggests that the emitted radiation frequency and energy are too low to damage DNA.
The World Health Organization (WHO) website claims, "To date, no adverse health effects from low level, long-term exposure to radiofrequency or power frequency fields have been confirmed, but scientists are actively continuing to research this area".
While searching more about the radiation from a phone, we found a (2020) study that shows mobile phones have an adaptive power control system. The role of this system is to minimise the radiation and make it enough for a good connection. So, a good mobile phone reception will have lower emissions.
Only (2019) research found a slight increase in radiation when the phone was on the lowest battery and tried to attempt the call. Still, this research concludes that phones have no major change in the radiation while on low battery.
In conclusion, it seems that there exists limited research to confirm whether radiation becomes 1000 times stronger during low phone battery and harms kidneys.
The Healthy Indian Project (THIP Media) has already discussed that the radiation from Apple AirPods is not dangerous.
Disclaimer: Medical Science is an ever evolving field. We strive to keep this page updated. In case you notice any discrepancy in the content, please inform us at [email protected]. You can futher read our Correction Policy here. Never disregard professional medical advice or delay seeking medical treatment because of something you have read on or accessed through this website or it's social media channels. Read our Full Disclaimer Here for further information.