Quick Take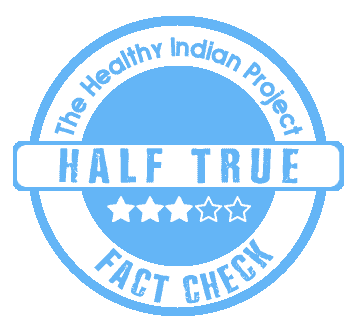 A social media post claims that polypropylene (found in face masks), is a major source of microplastics in our lungs. We fact-checked and found this claim to be Half-true.
The Claim
A social media post shows an image titled, "Microplastics found deep in lungs of living people for the first time with polypropylene and PET being the most common."
The picture is captioned " What could it possibly be from?"
Moreover, the post also shows another image that reads "Disposable 3-Ply Face Mask 50 Pcs made with Polypropylene and Elastic Ear Loops, "indirectly claiming that face masks are a major source of microplastics in our lungs."
Fact Check
What are microplastics?
According to National Geographic, Microplastics are tiny plastic particles between 1 μm and 5 mm that result from both commercial product development and the breakdown of larger plastics. They can be found in marine and freshwater bodies, soil, food, drinking water, and air. As a pollutant, microplastics can be harmful to the environment and health.
Were microplastics ever found in human lung tissue?
Yes. A study published in the "Science of Total Environment" identified microplastics in human lungs using μFTIR analysis. They found 39 particles of microplastics (MP) in 11 of the 13 lung tissue samples which they tested. They found 12 types of plastics, out of which polypropylene (PP), polyethylene terephthalate (PET), and resin were the most abundant. The study further stated that "the abundance of MPs within samples, significantly above that of blanks, supports human inhalation as a route of environmental exposure."
What are the sources of microplastics in our lungs?
According to the World Economic Forum, "Microplastics in the indoor air result from the fragmentation through friction, heat or light of plastic objects found in our homes. These include toys, furniture, plastic bags, cosmetics, toothpaste, and scrubs. The majority of microplastics found in the indoor air, however, come from plastic fibers released from synthetic clothing and textiles used in home furnishings. These microplastic fibers tend to be longer and therefore more harmful when inhaled. Today, synthetic materials, such as acrylic, nylon, and polyester, make up some 60% of global textile production."
The International Union for Conservation of Nature enlists microplastics entering our ocean as synthetic textiles, tires, city dust, road markings, marine coatings, personal care products, and plastic pellets.
Are face masks a major source of microplastics in our lungs?
Not exactly. There is not enough scientific evidence that can prove that face masks are a major source of microplastics in our lungs. However, certain studies indicate that it might be a contributing factor in microplastic inhalation. The studies point toward the need to have a detailed study on the potential health hazards of elongated use of face-mask.
Research states that "the inhalation of microplastics due to the wearing of masks has rarely been reported. Results of the study implied that wearing masks considerably reduces the inhalation risk of particles (e.g., granular microplastics and unknown particles). Surgical, cotton, fashion, and activated carbon masks pose higher fiber-like microplastic inhalation risk, while all masks generally reduce exposure when used at a specified time (<4 h). N95 poses less fiber-like microplastic inhalation risk.
"During the pandemic, the benefits outweigh the harmful effects of face masks. The World Health Organization and the Centers for Disease Control and Prevention recommended the use of masks during the COVID-19 pandemic. Please note that the use of masks is vital during the pandemic scenario even though they might contribute to some microplastic inhalation, it is a minor problem as compared to protecting humans from COVID-19.
Disclaimer: Medical Science is an ever evolving field. We strive to keep this page updated. In case you notice any discrepancy in the content, please inform us at [email protected]. You can futher read our Correction Policy here. Never disregard professional medical advice or delay seeking medical treatment because of something you have read on or accessed through this website or it's social media channels. Read our Full Disclaimer Here for further information.