Is Peppa Pig based on a pig-like human in real life?
Is Peppa pig based on true events?
No, Peppa Pig is not based on a true story. Peppa Pig is a British animated children's television series that follows the adventures of Peppa, a cheeky little pig, and her family and friends. The show was created by Neville Astley and Mark Baker and first premiered in 2004. Peppa Pig has become incredibly popular among young children around the world. Evidence only shows that the show is purely a work of fiction and not based on real events or characters.
Quick Take
A social media video claims that the cartoon Peppa Pig is a real story and is based on a pig-like human in real life. We fact-checked and found the claim to be Mostly False.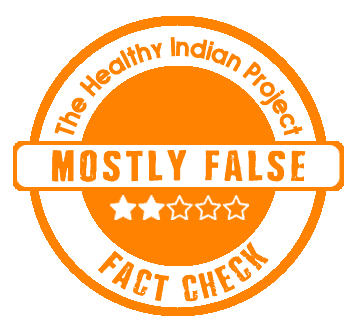 The Claim
The claim circulated in a Facebook video begins with a voiceover suggesting that Peppa Pig was based on a "terrifying true story." According to the video, a couple living on a farm in 1952 supposedly injected pig DNA into their daughter named Peppa, claiming to possess the ability to do so. However, the video fails to provide any specific details about the location of the farm or the names of the parents.
We have attached the screenshot of the post below:
Fact Check
Is Peppa Pig a real story?
No. Peppa Pig is not a real story based on a real-life pig-like human. On Google search, we found no local news coverage that incorporates police reports or news stories to substantiate this event.
Peppa Pig is a fictional character created for an animated children's television series of the same name. Neville Astley and Mark Baker created the show and first aired in 2004. Peppa Pig is a young human-like pig. She lives with her family and has various adventures with her friends. Our research shows that the character is purely a creation of the show's creators and not based on any specific real-life inspiration.
It is worth noting that Peppa Pig has a theme park situated in Paulton's Park, located in the United Kingdom. According to the Paulton's Park website, the people who made Peppa Pig wanted to create a show for kids. So, it had to be a simple and easy-to-understand character. They also wanted the main character to be a girl. Also, they gave the girl a personality different from the usual princess and ballerina stories that were popular at the time. No evidence on the website or elsewhere shows that the animations were based on a story of a girl injected with pig DNA.
Besides this, we have also asked Hasbro, the company that owns Peppa Pig, about this statement. Once we get their answer, we will update this article with the new information.
Often social media posts wrongly associates animations with baseless claims to spread misinformation. Previously we debunked a social media post that falsely suggested the Captain America movie predicted the Covid pandemic.
Disclaimer: Medical Science is an ever evolving field. We strive to keep this page updated. In case you notice any discrepancy in the content, please inform us at [email protected]. You can futher read our Correction Policy here. Never disregard professional medical advice or delay seeking medical treatment because of something you have read on or accessed through this website or it's social media channels. Read our Full Disclaimer Here for further information.