Quick Take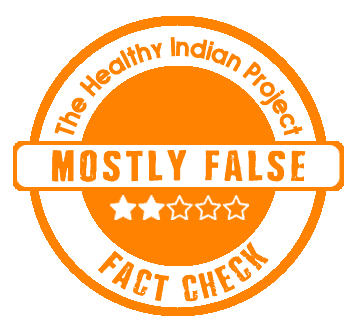 The internet is full of myths about a medical condition called 'Navel Displacement'. We fact-checked and found that medical science does not recognize the existence of any such disease. Even most alternate medicine practices do not recognize the condition. While medical professionals recognize there can be multiple reasons for stomach pain, they are unanimous about the fact that any condition called 'navel displacement' doesn't exist. Due to lack of medical evidence, we term this as Mostly False.
The Claim
The medical condition is being discussed by many users on the internet and a lot of people have suggested home remedies to cure the same.
Some posts can be seen here, here, here, here, and here.
Fact Check
What is the popular belief around navel displacement?
An unexplained stomach pain, mostly in younger children, is diagnosed as 'navel displacement' by non-medical professionals. It is also self-diagnosed by adults in them and further fuelled by many alternative medicine professionals. Many others will tell you that a navel displacement can lead to menstrual disorders in females, pain in the body and affect our vital organs.
While there are multiple explanations to the concept we decided to ask a medical professional on how they usually see this belief pan out.
General Physician Dr. S Krishna Prasanthi, MBBS, MD (PGIMER) explains, "We predominantly see this in northern India. It is a common practice where the elderly people attribute the stomach pain in children to "navel displacement". By applying deep pressure over umbilicus, they attempt to feel for any pulsation. It is basically the pulse of aorta that they try to feel. In case the aortic pulsation is not felt, they claim that the navel is displaced, and attribute it as the reason for stomach pain. They believe, adjusting the umbilicus will cure the stomach pain"
What do experts say about navel displacement?
Dr. Prasanthi says, "In most cases, the pain may be caused by gas or simple spasm of abdominal muscles. Usually, it is self-relieving and does not require any extreme measures. Anyway, it cannot be called as "unexplained stomach pain". The cause may be unexplained by people from non-medical background. However, any qualified pediatrician can diagnose and treat without the need to "adjust" the umbilicus"
Dr. Gyan Vikas, Intensivist, says, "I have never read about this term in any credible medical journal. It is not a recognized medical condition. But non-medical people keep peddling such unscientific information on the Internet and common people fall for it."
Dr. Maitrey Pandya, General Physician says, "Modern evidence-based medicine has surveilled human anatomy through technological innovations. Navel Displacement isn't a recognized condition in modern medicine. If it is, then it requires to be supported by research-based evidence. As of now, there are none."
Dr. Devesh Goel, General Physician also has a similar thing to say. He says, "There is no concept of Navel displacement in modern medicine or allopathy. There can be multiple reasons for a stomach ache – from diarrhea, constipation to stress."
Dr.Mohammad Ismail, Clinical Pharmacist, says, "Any 'displacement' can be synonymous to 'hernia' and should be treated medically. Navel displacement is not the right term. Neither are the various unscientific treatments suggested by non-medical people."
Dr. Harleen Kaur, Research Officer at Central Council for Research in Homoeopathy (Ministry of AYUSH, Government of India) says, "Navel Displacement is not a recognized term under the International Classification of Diseases (ICD). We can call it umbilical colic instead, which is not a clinical condition in itself, but merely a symptom guiding towards diagnosis. The common reasons for this type of colic are flatulence due to gastric or intestinal disturbances."
Dr. P. Rammanohar, Research Director, Amrita School of Ayurveda, says, "These are like old wives' tale – superstitions that have been running since ages. Under Ayurveda, there is no such concept of Navel Displacement."
Is there any specific research around navel displacement?
We could not trace any medical research paper around Navel Displacement. One observational paper published back in 2013, calls the symptom, "a cultural syndrome presenting with unexplained medical symptoms." The authors prescribed that "It is important that physicians and psychiatrists combine their expertise to assess and manage people with unexplained medical symptoms" referring that this can be as much as a psychological issue as a physical one.
What do medical experts suggest for cure of the pain that is often thought of navel displacement?
Dr. Kaur suggests, "Under Homeopathy, we suggest various medicines for umbilical colic, depending on the probable cause. Plumbum metallicum, Cinchona officinalis, Carbo vegetablis and Lycopodium are usually the most indicated medicines."
Dr. Vikas warns, "You cannot treat every pain the same way. To name or establish the reason there is a proper scientific process called "diagnostic workup". History, patient's complaints, clinical presentation, clinical findings, investigation, and then provisional/probable or final diagnosis will mostly explain the reason for pain. I will suggest anyone who has a prolonged stomach ache consult a doctor. Leaving it untreated, or self treat it based on suggestions from the internet can prove to be fatal."
Dr. Prasanthi concludes, "There is always a danger lurking in many common practices that are not supported by evidence and play with the ignorance of the people. One of the examples is the practice of applying cow dung to the umbilical cord of neonates that used to result in neonatal tetanus. Maybe due to lack of extensive studies and documentation, any of the side effects of "adjusting the navel" through homegrown treatments is not known. The need of the hour is to create more awareness among the people to avoid these practices."
Disclaimer: Medical Science is an ever evolving field. We strive to keep this page updated. In case you notice any discrepancy in the content, please inform us at [email protected]. You can futher read our Correction Policy here. Never disregard professional medical advice or delay seeking medical treatment because of something you have read on or accessed through this website or it's social media channels. Read our Full Disclaimer Here for further information.