Quick Take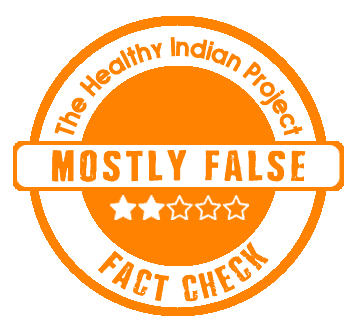 A social media post published in English and Spanish claims that 'The monkeypox virus was created at the Wuhan Institute of Virology,' and 'there is no specific monkeypox vaccine.' We fact-checked and found that all the mentioned claims are Mostly False and lack scientific evidence.
The Claim
An article on social media claims, "The monkeypox virus was created at the Wuhan Institute of Virology,' 'there's evidence that we may not be dealing with something that arose accidentally and naturally,' and 'there is no specific monkeypox vaccine.'
Fact Check
What is Monkeypox?
Monkeypox is a zoonotic disease caused by the orthopox virus and was first described in monkeys, though the reservoirs are rodents. The disease causes fever, headache, body ache, painful rash over the body, and swollen glands. Monkeypox spreads in 3 ways, from person to person, from animals to humans and through direct contact with contaminated objects. THIP Media has analyzed several claims related to Monkeypox such as monkeypox as an airborne infection, Covid vaccine and monkeypox, and many others.
Was Monkeypox created at the Wuhan Institute of Virology?
No. THIP Media has already debunked this claim and stated that Monkeypox is not a new virus and has been reported in several central and western countries since 1970. The available evidence does not show monkeypox virus from Wuhan's laboratory is responsible for the current outbreak.
Is there no specific vaccine for monkeypox?
No. Currently, there are two vaccines available to prevent monkeypox. The CDC mentions two vaccines, namely JYNNEOS vaccine and an alternative to the first one, ACAM2000 vaccine. These two vaccines are approved for the prevention of smallpox and monkeypox. It further states that the JYNNEOS vaccine is the primary vaccine being used during this outbreak in the U.S and was approved by the FDA in 2019 itself. However, the WHO (till the time of the publication of this article) states, "Mass vaccination is not required nor recommended for monkeypox at this time. For contacts of cases, post-exposure preventive vaccination (PEPV) is recommended with an appropriate second- or third-generation vaccine, ideally within four days of first exposure to prevent the onset of disease."
Was monkeypox engineered intentionally?
That's not true. There is no scientific evidence that proves that either the monkeypox virus was intentionally engineered or the virus came from a lab accidentally without engineering, as the post misleadingly suggests. The genetic sequences we have so far for the virus all trace it back to the strain of monkeypox, which commonly circulates in West Africa. The first case was discovered in 1958 in laboratory monkeys, and Human monkeypox was first identified in humans in 1970 in the Democratic Republic of the Congo. Prior to the 2022 outbreak, monkeypox had been reported in people in several central and western African countries.
THIP Media Take: Monkeypox virus was not created in a laboratory in Wuhan and is a natural disease. The claim lacks scientific evidence. Moreover, there are two vaccines, namely, JYNNEOS vaccine, and ACAM2000 vaccine, that is approved for the prevention of smallpox and monkeypox. Therefore, the stated claims remain mostly false until proven otherwise.
Disclaimer: Medical Science is an ever evolving field. We strive to keep this page updated. In case you notice any discrepancy in the content, please inform us at [email protected]. You can futher read our Correction Policy here. Never disregard professional medical advice or delay seeking medical treatment because of something you have read on or accessed through this website or it's social media channels. Read our Full Disclaimer Here for further information.