Quick Take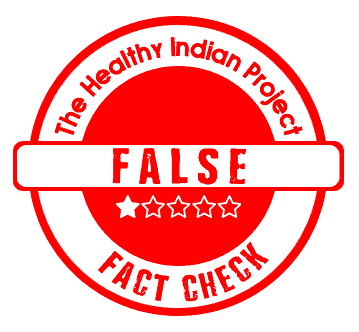 A social media post claims that massaging your feet with oil before going to bed is good for your eyes. We fact-checked and found this claim to be False.
The Claim
A post on social media claims, "If you care for your eyes, massage your feet with oil before going to bed." A screenshot of the post is attached below.
Fact Check
Does massaging have any impact on eye health?
No. The technique of using massage for the benefit of eye health falls under the domain of reflexology and acupressure. Acupressure is used as an alternative medicine technique that is used in conjunction with acupuncture or reflexology. With acupressure, you put pressure on specific places in your body. These places are called acupoints.
The acupoints for the eyes are Zan Zhu Point (Along the inner-eye area), Cheng Qi Point (Directly under the eye and center to the eye area), Yang Bai Point (left side of the center of the forehead), and Si Zhu Kong Point (tip of the brow, away from the eye). Even though it is believed that massaging specific points can be effective, there is no reliable evidence for the effectiveness of acupressure. However, research is still going on and there might be evidence backing up its accuracy in the future.
Is massaging your feet with oil before bed good for your eyes?
No. No research or scientific evidence proves that massaging your feet with oil before bed is good for your eyes. Also, both these processes are highly expert-driven and not a "do-it-yourself." The experts know the exact pressure points in the body that can help relieve tension and improve the overall well-being of the organ, as claimed.
Dr. Brahmi Pandey, MBBS, MS, DNB (Ophthalmology), says, "Foot massage can be very soothing. It can contribute to an overall feeling of relaxation and good health. It cannot harm. However, no scientific evidence can justify that any foot massage improves eyesight. This has neither been experienced by the vast majority of ophthalmologists, nor there is any evidence in the form of a scientific paper to confirm the same.
As an Eye specialists, we consider improvement in eyesight as a definite measurable improvement in the best-corrected visual acuity. However, for many, it can be a subjective feeling of well-being. The real fact that these stories exist and many seem to buy them is because of their belief system. This is similar to the placebo effect where faith is more important a healing factor than the medicine itself."
Disclaimer: Medical Science is an ever evolving field. We strive to keep this page updated. In case you notice any discrepancy in the content, please inform us at [email protected]. You can futher read our Correction Policy here. Never disregard professional medical advice or delay seeking medical treatment because of something you have read on or accessed through this website or it's social media channels. Read our Full Disclaimer Here for further information.