Is meat served by KFC cultured?
Is KFC not serving conventional meat?
No. As of now, KFC has not made any official announcement about serving lab-grown meat globally. In 2020, KFC Russia experimented with lab-grown chicken nuggets in select restaurants, but it was not a permanent addition to the menu. The taste and texture of lab-grown meat are still being perfected, and there are ethical and consumer acceptance considerations. KFC's official pages and Twitter handle do not indicate any current association with lab-grown meat products.
Quick Take
A social media post claims that KFC is serving lab-grown meat. We fact-checked and found this claim to be False.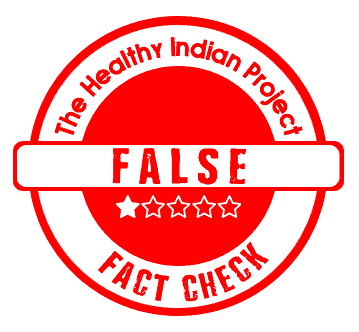 The Claim
A Facebook post warns people on KFC serving the lab-grown meat in their stores.
We have attached the screenshot of the post below:
Fact Check
What is a lab-grown meat?
Lab-grown meat, also known as cultured or cultivated meat, is produced by growing animal cells in a laboratory. The cells are taken from a living animal, but they are not killed. Instead, they are grown in a controlled environment and fed a nutrient-rich solution. As the cells grow, they form muscle tissue, which can be harvested and processed into meat products.
Lab-grown meat has several potential advantages over traditional meat. It is more sustainable, as it requires less land, water, and energy to produce, and reduces greenhouse emissions as well.
It is generally considered safe and also more ethical, as it does not involve the slaughter of animals. Additionally, lab-grown meat can be customized to have different flavors, textures, and nutritional profiles.
However, lab-grown meat is still in its early stages of development. But as technology improves, lab-grown meat is likely to become more affordable and widespread.
Is KFC serving lab-grown meat currently?
No, there is a lack of evidence in proving KFC is not currently serving lab-grown meat. The company has experimented with lab-grown meat in the past, but it has not yet made a decision to bring it to market.
In the year 2020, KFC Russia experimented with a lab-grown chicken product (nuggets). The product was made from real animal cells that were grown in a laboratory and plant-based ingredients. It was only available in a few select restaurants in Russia, and it was not a permanent addition to the menu.
Post this, KFC has not announced any plans to bring lab-grown meat to its restaurants globally. This isn't the first time we have found inconsistent claims related to KFC's meat. Previously, some people on social media incorrectly claimed that a US Court ruling KFC as unsafe for humans. However, we researched and found that the court never gave such a verdict.
In context with lab-grown meat, evidence shows that the technology is still in its early stages of development. Also, a few issues arise with this as the taste and texture of lab-grown meat are not yet perfect, and the cost is still high.
Another reason is that there is some consumer hesitation and ethics about eating lab-grown meat. Some people may need to be more comfortable with the idea of eating meat that was grown in a laboratory.
However, the demand for lab-grown meat is growing. As the technology continues to improve and the cost comes down, it is possible that KFC will eventually decide to serve lab-grown meat. But, neither the official page of KFC nor its Twitter handle shows any formal announcement that states an association with any product which is made with lab-grown meat.
Disclaimer: Medical Science is an ever evolving field. We strive to keep this page updated. In case you notice any discrepancy in the content, please inform us at [email protected]. You can futher read our Correction Policy here. Never disregard professional medical advice or delay seeking medical treatment because of something you have read on or accessed through this website or it's social media channels. Read our Full Disclaimer Here for further information.