Quick Take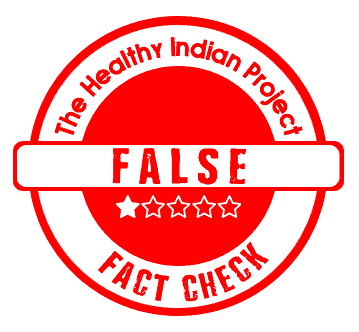 Several social media posts and a study claimed ivermectin is now approved to treat the covid infection. We fact-checked and found the claim is False. Ivermectin is not yet approved for commercial use.
The Claim
A study published in 2022, titled 'Regular Use of Ivermectin as Prophylaxis for COVID-19 Led Up to a 92% Reduction in COVID-19 Mortality Rate in a Dose-Response Manner: Results of a Prospective Observational Study of a Strictly Controlled Population of 88,012 Subjects' claimed non-use of ivermectin led to 12.5-fold increase in mortality rate and a seven-fold increase in the risk of death from covid infection, in comparison to the use of ivermectin.
A Facebook video referred to this study to claim ivermectin is vindicated again. We also found a Twitter post claiming the National Institutes of Health (NIH) has approved ivermectin to treat the covid infection.
Fact Check
What is ivermectin?
Ivermectin is an antiparasitic drug that treats tropical diseases. The U.S. Food and Drug Administration (FDA) has approved ivermectin for onchocerciasis, helminthiases, and scabies.
Is ivermectin an approved Covid treatment?
It does not seem so. No evidence confirms ivermectin is approved to treat Covid infection. Both the NIH and FDA websites show ivermectin has not yet been approved, to treat the covid infection. Also, both websites warn against using ivermectin on humans or animals to find a cure for covid infection beyond clinical testing.
'Let's look at the title first, because it's wrong. The authors describe this as a 'prospective observational study' of a 'strictly controlled population of 88,012 subjects'. That is incorrect'.
The available evidence only suggests that ivermectin has been studied to treat the covid infection within laboratories. The results of published studies show that ivermectin inhibits the function of certain proteins, which plays an essential role in preventing the hijack of a transport process through which covid virus enters the human body.
In context with the 2022 study published in the Cureus journal, we found the methodology section needs supporting scientific evidence to confirm its authenticity. In a Twitter thread an epidemiologist explained the reasons which seem to have made the methodology of this study less credible.
'As the methods clearly states, the study design and ethics approval came AFTER the public health program occurred. This is more correctly termed a retrospective observational study of routinely recorded medical records'. [links embedded]
Leadstories.com has referred to several experienced health professionals who have explained the faults in the study, providing explanations to why the study has an incorrect methodology.
Disclaimer: Medical Science is an ever evolving field. We strive to keep this page updated. In case you notice any discrepancy in the content, please inform us at [email protected]. You can futher read our Correction Policy here. Never disregard professional medical advice or delay seeking medical treatment because of something you have read on or accessed through this website or it's social media channels. Read our Full Disclaimer Here for further information.