Is lab-grown meat causing cancer?
No. There is no scientific evidence to suggest that lab-grown meat, also known as cultured meat or cell-based meat, causes cancer. Lab-grown meat is produced by cultivating animal cells in a controlled environment, without the need to raise and slaughter animals. Consuming lab-grown meat, which is essentially composed of muscle cells and does not involve the same processes as traditional livestock farming, is not inherently linked to cancer.
Quick Take
A social media post claims that Bill Gates' lab-grown meat causes cancer. We fact-checked and found the claim to be False.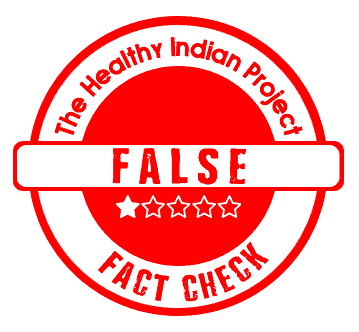 The claim
A post published on X, formerly Twitter referred to an article titled 'Study: Bill Gates' Lab Grown Meat Causes Cancer in Humans' to claim that Bill Gates' lab-grown meat causes cancer. This article has been published by a media website named The People's Voice.
Fact Check
What is lab-grown meat?
Lab-grown meat, also called cultured meat, is created by cultivating animal cells in a lab. These cells are sourced from living animals without causing harm. They're nurtured in a controlled setting with nutrients, developing into muscle tissue that can be gathered and processed as meat.
Compared to traditional meat, lab-grown meat offers several benefits. It is more sustainable, demanding less land, water, and energy, while also reducing greenhouse gas emissions. The process is generally considered safe and ethical, avoiding animal slaughter. Furthermore, lab-grown meat can be tailored for various tastes, textures, and nutritional profiles.
Despite being in the early stages, advancing technology is likely to make lab-grown meat more accessible and widespread.
Is it true that Bill Gates' lab-grown meat causes cancer?
No. We found no evidence that confirms Bill Gates' lab-grown meat causes cancer. Our research led us to discover that Gates has invested in Upside Foods, a lab-grown meat startup. However, The People's Voice article fails to provide any valid substantiation for the claim that the consumption of this meat is linked to cancer. 
Instead, the article refers to a series of studies commissioned by Impossible Foods, a company also backed by Gates, which demonstrate the safety of an ingredient used in their plant-based meat. It is worth noting that Impossible Foods concentrates on plant-based meat alternatives rather than lab-grown meat.
The Peoples Voice website is known for regularly publishing stories with no scientific evidence. We also have found evidence that shows The People's Voice, which used to be called Newspunch, is a well-known source of false information and has been around for a long time. They often spread stories that are not true. 
This website cites a blog post asserting potential adverse health effects in humans due to the aforementioned ingredient. However, both the referenced studies and the blog post do not attribute cancer-causing properties to Upside Foods, the sole lab-grown meat producer in which Gates has invested.
In November 2022, Upside Foods gained Food and Drug Administration (FDA) approval as the first company to commercially sell lab-grown meat in the United States. The company is currently awaiting approval from the Department of Agriculture, for regulatory responsibilities.
Bill Gates seems to be a favourite topic to spread misinformation. There are several false claims that are on social media such as scheduled pandemic, GMO mosquitoes, controlling population, etc.
Disclaimer: Medical Science is an ever evolving field. We strive to keep this page updated. In case you notice any discrepancy in the content, please inform us at [email protected]. You can futher read our Correction Policy here. Never disregard professional medical advice or delay seeking medical treatment because of something you have read on or accessed through this website or it's social media channels. Read our Full Disclaimer Here for further information.