Quick Take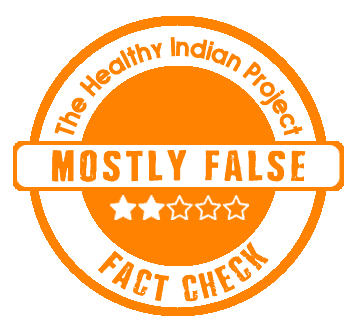 A social media post claims that you should use a Q-Tip soaked in dish soap for easy tick removal. We fact-checked and found this claim to be Mostly False.
The Claim
A social media post reads, " if you find a tick on you or your loved one – or whoever- including your pets- instead of trying to pull them off with your fingers, tweezers, or those fancy gizmos you can buy for tick removal, simply take a q-tip and dip it in liquid soap such as Dawn dish soap, and start making small circles around the tick. The soap fills the ticks lungs and they can't breath so they let go of the skin and come right off."
Fact Check
What is a tick?
According to the American Academy of Dermatology, "Ticks are small, insect-like creatures that live in heavily-wooded or grassy areas. They can attach to your skin and feed on your blood. Although most ticks do not carry disease, some can cause serious illness, such as Lyme disease, Powassan virus, or Rocky Mountain spotted fever. To prevent infection, it's important to remove a tick from your skin as soon as you notice it."
How to remove a tick?
The CDC recommends, "Use clean, fine-tipped tweezers to grasp the tick as close to the skin's surface as possible. Pull upward with steady, even pressure. Don't twist or jerk the tick; this can cause the mouth parts to break off and remain in the skin. If this happens, remove the mouth parts with tweezers. If you cannot remove the mouth easily with tweezers, leave it alone and let the skin heal. After removing the tick, thoroughly clean the bite area and your hands with rubbing alcohol or soap and water."
Why is it difficult to remove the tick?
Ticks secrete a substance called the cement that anchors their mouthparts to the host skin. It has adhesive properties and seals the lesion during feeding, making the removal difficult. The Cement plays a significant role in host attachment, sealing the feeding lesion, facilitating feeding and pathogen transmission, and protecting from host immune and inflammatory responses. The biochemical properties of tick cement during feeding have not been fully characterized.
Is it safe to remove a tick from the skin using dish soap instead of tweezers?
Not exactly. The tick won't get detached using dish soap unless the tick is engorged and already ready to let go. Tweezers are recommended as the most effective way to remove ticks from the skin.
Consultant Dermatologist, Dr. Jyothy Kannangath, says, "The tick can be removed using undiluted dish soap by massaging with a cloth or tissue paper soaked with it under medical supervision. There's a risk of regurgitation of the tick's stomach contents, therefore, it's better to use tweezers if possible."
There are no proven benefits of using dish soap to remove ticks. Also, a study that studied tick removal displayed results only on 9 patients and the number is too less to withdraw conclusive data. Secondly, the study was done in a dermatologic setting. Therefore, the claim is mostly false.
Is it safe to remove a tick from animals using dish soap instead of tweezers?
Not exactly. The American Kennel Club says, "Using a pair of tweezers is the most common and effective way to remove a tick. Another option that they recommend is the use of a tick removal hook."
Also, dish soap is not recommended on the fur even though they have grease and oil removing ability because it will strip the pet/animal's skin of the natural oils that help to nourish and protect it, leaving it less hydrated and decreasing its ability to keep bacterial, yeast, and allergic irritants at bay.
Our veterinary expert, Dr. Vivek Arora, B.V.Sc. & AH, MIVIS, explains, "Ticks are blood sucking parasites attached to host skin surface with their mouth parts embedded in the skin. There is no scientific evidence that removing ticks by soap is safe and less harmful for the host body; however, such a technique can make ticks regurgitate the contents into the host, causing a more severe immune reaction and fulminant disease. Most experts believe in taking the tick out with the help of tweezers, holding the head part firmly and steadily so that no tick body part is stuck inside the host."
Disclaimer: Medical Science is an ever evolving field. We strive to keep this page updated. In case you notice any discrepancy in the content, please inform us at [email protected]. You can futher read our Correction Policy here. Never disregard professional medical advice or delay seeking medical treatment because of something you have read on or accessed through this website or it's social media channels. Read our Full Disclaimer Here for further information.