Is Borax safe to consume?
No. Borax is not safe for medicinal purposes. No scientific evidence supports its use, and health authorities do not approve it for medical use. It can be toxic, causing kidney, liver, and neurological issues. Ingesting even small amounts can be harmful, especially to children. Seek immediate medical attention if ingested accidentally. Self-medicating with borax or supplements can be risky.
Quick Take
A social media post claims that ingesting borax, a household cleaner has several health benefits, such as improvement in joint pain, kidney stones, etc. We fact-checked and found this claim to be False.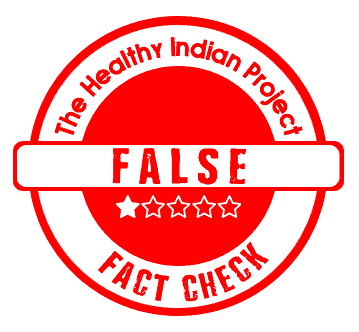 The Claim
The caption of a Facebook video reads, "Let's discuss why we take a little pinch of BORAX each day in a glass of water." The woman in the video states that I've been using it for probably over two months now, and I have seen a drastic reduction in my joint pain, not to mention it's believed that it can help break down kidney stones. She furthermore discusses about other health benefits and why can it be used instead of boron tablets.
The video gained more than 800 likes and 20k views.
Fact Check
What is Borax?
Borax is a naturally occurring mineral compound that is also known as sodium borate or sodium tetraborate. It is a white, odorless powder that is commonly used as a cleaning agent, laundry additive, and fire retardant. Borax is also used in some industrial applications, such as glassmaking and soapmaking.
Is Borax, a cleaning agent and Boron tablet the same?
No. Borax and boron tablets are not the same. Borax is a compound of boron and they are very different from each other in the chemical nature. The key difference between boron and borax is that the boron is a chemical element whereas the borax is a chemical compound. Borax is a naturally occurring mineral compound, while boron tablets are a dietary supplement that contains boron. Boron is an essential trace mineral that is found in the Earth's crust. It is also found in some foods, such as fruits, vegetables, and nuts. The two substances are similar in that they both contain boron. However, they are different in their forms and their uses. Borax is a powder, used for cleaning and industrial purposes while boron tablets are capsules or tablets, used as a dietary supplement. 
Is it safe to consume Borax for medicinal purposes?
No. There is no scientific evidence to support the use of borax for medicinal purposes, and it is not approved for such use by any health authorities.
Borax is a naturally occurring mineral that has been used historically for various purposes, but its safety and effectiveness as a therapeutic agent have not been well-established through rigorous scientific research. There are no approved medical uses for borax. It has been used as irrigants, dressings, antiseptics, buffers, and preservatives. The health authorities do not recommend it as a treatment or in food for any health condition.
In fact, borax is toxic to cells and has a slow excretion rate through the kidney. Its consumption can cause kidney toxicity, liver fatty degenerations, cerebral edema and gastroenteritis. The consumption of borax can lead to a number of health problems, including allergic reactions, respiratory problems, gastrointestinal problems, etc. In rare cases, it can also lead to serious poisonings and even death. 
Borax is a dangerous substance that should never be consumed. Fatal doses of borax exposure for adults are estimated at 10 to 25 grams. However, even smaller amounts of borax can be harmful, especially to children. If you think you or someone you know has ingested borax, it is important to seek medical attention immediately. 
Remember, self-medicating or taking supplements without proper guidance can be risky and may lead to adverse effects and do more harm than good.
Disclaimer: Medical Science is an ever evolving field. We strive to keep this page updated. In case you notice any discrepancy in the content, please inform us at [email protected]. You can futher read our Correction Policy here. Never disregard professional medical advice or delay seeking medical treatment because of something you have read on or accessed through this website or it's social media channels. Read our Full Disclaimer Here for further information.