Can dental tartar be removed by an electric device used at home?
No. Only a dentist with the necessary training can remove this tartar. Doing it at home has the potential to cause more damage than good. When tartar is removed incorrectly at home, the gums, teeth, and other oral structures may all be harmed. Patients who have pacemakers or other cardiac devices need to exercise extreme caution with ultrasonic dental devices.


Quick Take
According to a Facebook post, using an electric tooth cleaning tip is an effective way to remove tooth tartar. We verified the assertion. Our research has shown that the claim is False.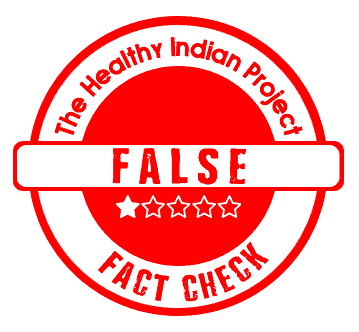 The Claim
A popular Facebook post promoting an electric tooth cleaning tip has gone viral. The article claims that tartar can be removed at home using a product. The post also claims that using the device could help prevent gum disease.
Fact Check
Does an electric device work well for cleaning dental tartar at home?
No, not at all. It is important to stress that there are valid concerns regarding such at-home tooth cleaning equipment. When we used Google Reverse Image to search for the product online, we discovered that it is a widely accessible product that is being promoted as a high-frequency dental product that uses ultrasonic vibration. Please understand that these websites are merely marketing the product as an at-home tartar removal alternative to an electric toothbrush. However, a dental professional who has been trained to remove these calcified shields cannot be replaced by this product for professional scaling.
Additionally, no warnings, side effects, or other contraindications are mentioned. This is due to the possibility that electronic dental devices like ultrasonic scalers could interfere with certain implantable cardiac devices like pacemakers or implantable cardioverter-defibrillators. Most importantly, the product lacks an official seal of approval. This leads us to the conclusion that such devices cannot effectively remove dental calculus or tartar. The suggested product is shown in the screenshot below.
Is it advisable to get rid of dental tartar at home?
No, definitely not. Calculus, also referred to as tartar, is essentially an accumulation of plaque and minerals from the saliva that solidifies. The surface of teeth are covered in tooth tartar, which in severe cases can be seen below the gum line. The tartar covers the teeth like a crust. Due to its high porosity, it is vulnerable to stains from food and drinks.
Plaque and tartar pose a significant risk to the health of your teeth. The removal of this dental tartar is crucial because its persistence can worsen gum disease, damage enamel, and cause bad breath. Unfortunately, it is unlikely that a toothbrush and floss will be able to remove plaque once it has hardened into tartar. It is not a good idea to use at-home tools to scrape tartar off of yourself.
This is due to the possibility of damaging one's smile through improper use of electric tartar removal devices, which necessitates special training. If used incorrectly, they might cause gum damage and infection. Furthermore, using harsh devices can wear down the enamel on your teeth, causing sensitivity and caries. Keep in mind that once lost, the enamel—the outer, protective layer of teeth—cannot be replaced.
How can tartar and plaque buildup be prevented at home?
Plaque can quickly calcify into tartar. Therefore, maintaining good oral hygiene is essential for preventing the development of dental tartar and plaque. The best way to control plaque is to brush your teeth for two minutes at a time, twice daily, with a prescription toothpaste. Brushing should be done at a 45-degree angle with a soft bristle brush so that the bristles can reach the areas between the teeth and gums. Along with brushing, eating fresh fruits and vegetables and using alcohol-free mouthwashes can also help reduce plaque and tartar buildup.
THIP MEDIA TAKE: We come to the conclusion that dental tartar is a serious issue and that, once it has formed, it needs to get removed by a dentist. Emphasis should be placed on the possibility that at-home electric tartar removal methods could cause more harm than good. This is due to the fact that using it properly requires training, and improper use can harm the gums and teeth. Beyond that, patients who have pacemakers or defibrillators cannot be addressed with ultrasonic vibration. A multitude of online products claim to tackle various issues or promise swift remedies such as clean your baby's ear with a toolset. We should be careful of such advertisement claims.
Disclaimer: Medical Science is an ever evolving field. We strive to keep this page updated. In case you notice any discrepancy in the content, please inform us at [email protected]. You can futher read our Correction Policy here. Never disregard professional medical advice or delay seeking medical treatment because of something you have read on or accessed through this website or it's social media channels. Read our Full Disclaimer Here for further information.