Quick Take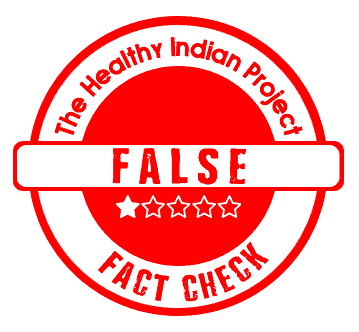 A post on Facebook reads, "Hepatitis B is 100% curable." We fact-checked and found this claim to be False.
The Claim
A social media post reads, "Hepatitis B is 100% curable. Do not be deceived." The screenshot of the post is attached below:
Fact Check
What is Hepatitis B?
Hepatitis is the inflammation of the liver and can be caused by autoimmune disorders, infection, or medication. According to the WHO, there are five types of hepatitis virus identified by the letters A, B, C, D, and E.
The CDC defines Hepatitis B as a vaccine-preventable liver infection caused by the hepatitis B virus (HBV). It is transmitted through exposure to infective blood, semen, and other body fluids, from mothers to infants at the time of birth, or through transfusions of HBV-contaminated blood and blood products, and accidental needle stick injuries while caring for infected-HBV patients.
Is Hepatitis B curable?
No. Unfortunately, there is no cure yet for hepatitis B, but there are certain treatments that can slow down viral replication and reduce the chance of liver damage and liver cancer in the future. The Hepatitis B Foundation states on its website that no cure or medication totally eliminates the virus or makes HBsAg negative, but there is hope. There are approved therapies for hepatitis B, and many are in development.
The Mayoclinic also states, "A vaccine can prevent hepatitis B, but there's no cure if you have the condition. If you're infected, taking certain precautions can help prevent spreading the virus to others." For most people, hepatitis B is mild and lasts a short time, going away itself. Planned parenthood mentions, "More than 9 out of 10 adults who get hepatitis B totally recover. However, about 1 in 20 people who get hepatitis B as adults become "carriers," which means they have a chronic (long-lasting) hepatitis B infection. About 1 in 5 people with chronic hepatitis B die from it." If a person becomes a carrier, it means that person is more likely to spread Hepatitis to others.
Gastroenterologist Dr. Sharad Malhotra says, "Hepatitis B is almost a lifelong infection. The need is to differentiate between carriers and diseased people. Carrier will require follow-up, and disease will need treatment which is based on blood and radiology investigation. Treatment with oral medications can vary from a few years to lifelong. The patient needs to be monitored for liver cirrhosis and liver cancer."
THIP MEDIA TAKE: Hepatitis B is not 100% curable. Moreover, there are certain treatments that can slow down viral replication and reduce the chance of liver damage.
Disclaimer: Medical Science is an ever evolving field. We strive to keep this page updated. In case you notice any discrepancy in the content, please inform us at [email protected]. You can futher read our Correction Policy here. Never disregard professional medical advice or delay seeking medical treatment because of something you have read on or accessed through this website or it's social media channels. Read our Full Disclaimer Here for further information.