Quick Take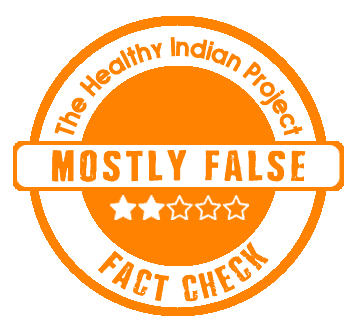 A (2004) interview shows Dr. Anthony Fauci, Director of the U.S. National Institute of Allergy and Infectious Diseases talking about innate immunity against flu. On social media, multiple media users have linked this old interview with Covid-19 virus to claim that Dr. Fauci's advice should apply equally to Covid patients. We fact-checked and found the claim to Mostly False.
The Claim
A (2004) interview shows Dr. Fauci saying "the best vaccination is to get infected yourself" in response to a case study of a woman who had flu but did not need flu vaccine (time stamp – 30:07). Referring to this old video, several Facebook users have now claimed that his advice applies equally to Covid-19 patients. The Facebook post has gathered 28K views and 1.4K likes till now.
Fact Check
Is getting infected the best vaccination?
No. Although getting infected with the virus indeed activates the natural innate immunity to prevent reinfection, the effect lasts only for a few months. Medical professionals throughout the globe recommend people get a vaccine even if they had covid in the past.
The Indian Ministry of Health and Family Welfare (MOHFW) website recommends deferring vaccination for 14 days after symptoms get resolved. Moreover, the Fortis Hospital in India has referred to CDC's claim, "you should wait 90 days before getting a vaccine if you had been treated for COVID-19 with monoclonal antibodies or convalescent plasma therapy".
A (2022) research published in the Nature Immunology notes, "The innate immune system functions as the first line of host defence against pathogens, including SARS-CoV-2. Innate immune responses limit viral entry, translation, replication and assembly, help identify and remove infected cells and coordinate and accelerate the development of adaptive immunity". The Immunisation Advisory Centre website has shown that covid vaccines uses this adaptive immunity and already built memory 'to expose the body to the antigen without causing disease, so that when the live pathogen infects the body, the response is rapid and the pathogen is prevented from causing disease'.
The John Hopkins Medicine website stresses on the fact that Covid-19 infection is risky as it can cause hospitalisation and death. Although flu can also cause hospitalisation and death, Covid-19 virus is more contagious than flu.
The Morbidity and Mortality Weekly Report (MMWR) published on August 13, 2021 by the Centers for Disease Control and Prevention (CDC) suggested, "among persons with previous SARS-CoV-2 infection, full vaccination provided additional protection against reinfection".
To add on this, the Centers for Disease Control and Prevention (CDC) website clearly states, "Getting a COVID-19 vaccine after you recover from COVID-19 infection provides added protection to your immune system. People who already had COVID-19 and do not get vaccinated after their recovery are more likely to get COVID-19 again than those who get vaccinated after their recovery".
Disclaimer: Medical Science is an ever evolving field. We strive to keep this page updated. In case you notice any discrepancy in the content, please inform us at [email protected]. You can futher read our Correction Policy here. Never disregard professional medical advice or delay seeking medical treatment because of something you have read on or accessed through this website or it's social media channels. Read our Full Disclaimer Here for further information.